Estimated read time: 2-3 minutes
This archived news story is available only for your personal, non-commercial use. Information in the story may be outdated or superseded by additional information. Reading or replaying the story in its archived form does not constitute a republication of the story.
Amanda Butterfield Reporting She survived a horrible wreck in Parley's Canyon last month. Now Annette Paget talks with KSL. Though she's out of the hospital, she has a long road of rehabilitation ahead.
Annette Paget: "I still have a lot of hurdles to go over, to overcome, but I'm doing OK."
January was a deadly month in Parley's Canyon. Four people died in car wrecks. One of them was Paget's 6-year-old daughter, Alexis. Paget and Alexis were coming home when an SUV lost control and flew into their lane. Alexis died. Annette survived and was just released from the hospital.
Annette Paget: "It's nice to be home finally. It's almost been five weeks."
Annette Paget was supposed to be in the hospital for two months, but she's healed quickly.
Tim Paget, husband: "She's a fighter. I wasn't sure how she would come out of this, but every day at the hospital she just got better."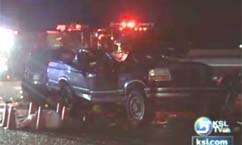 Not bad, for surviving a horrible wreck.
She's still in a lot of pain, that's why she has a tube in her nose.
Annette Paget: "It gives me medication."
And she has some other major hurdles to overcome.
Annette Paget: "I'm talking funny because I have my teeth wired, in a seven-and-a-half-hour surgery. My jaw was pretty messed up."
She also lost her arm.
Annette Paget: "This is where they did the skin grafts."
That makes daily tasks tough.
Annette Paget: "Yesterday I got to wear a pair of jeans, and I realized I can't button them up yet."
Though she can't remember anything from the wreck, Annette knows how she lost her arm.
Annette Paget: "I knew that I put my arm out to protect my daughter. That's why I lost it."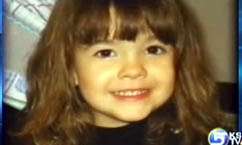 But it wasn't enough to protect Alexis.
Annette Paget: "This is Alexis's room."
Alexis loved pink. She was the princess.
Annette Paget: "She was the center of attention everywhere she went."
Tim Paget: "The weird thing is I keep thinking she's going to walk in."
Annette has only been home a few days. Because of donations made by the community, Tim can stay home from work and take care of her. The community has helped in other ways, too.
Annette Paget: "I do not think I would have recovered the way I did without people's hope and prayers."
Annette is still getting better physically and emotionally. She was bitter about what happened, but not any more.
Annette Paget: "I'm not angry."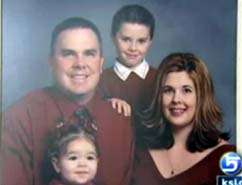 Once a family of five, only Annette, Tim and Tanner, 8, are living. In December they laid to rest their infant son who died of a genetic disorder. With the loss of their two young kids, the Pagets are living life a little differently now.
Annette Paget: "We've decided to really live life and not take things for granted."
Annette was in school to become a nurse practitioner when this happened. She says after rehab and when she's adjusted to missing her arm, she's determined to finish school.
×
Most recent Utah stories