Estimated read time: 3-4 minutes
This archived news story is available only for your personal, non-commercial use. Information in the story may be outdated or superseded by additional information. Reading or replaying the story in its archived form does not constitute a republication of the story.
John Hollenhorst ReportingThey're on alert for an alien invasion at Lake Powell!
An exotic species that could be devastating for fish and boaters is suddenly a much greater threat than ever before.
There are actually two clam-like species, Zebra Mussels and Quagga Mussels, that used to be a problem only if you were boating in, say, Russia or Turkey. Now, if you put a boat on a Utah lake, expect to be questioned about where that boat has been.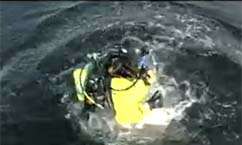 Scuba divers are going under to look, inspecting submerged cables and docks at Bullfrog. Biologists are trying to collect them with a length of pipe. The exotic creatures will latch on to just about anything.
Kevin Schneider, National Park Service: "They have the potential to really affect a lot of what people really care about at Lake Powell and Glen Canyon."
Pat Horning, Park Service scuba diver: "Fortunately right now we're not seeing it."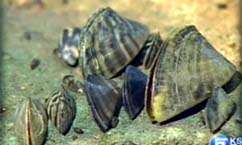 This video of Zebra Mussels came from Kansas. They're tiny, just an inch or two long. But there is power in numbers. They can threaten fish populations by filtering out nutrients. Each mussel cleans out a liter of water each day.
Jesse Granet, aquatic biologist for National Park Service: "There's been reports in the Great Lakes of 700,000 Zebra Mussels in one square meter."
They used to be found only in the region where Europe and Asia meet, in the Caspian and Black Seas. But in 1988 they hitched a ride on a ship to America and turned up in the St. Lawrence Seaway.
Jesse Granet: "Within five to seven years they had spread through most of the major river systems of the Eastern United States."
The Park Service began a prevention program at Lake Powell in 1999. But they were breathing easy because none had ever been found west of the Rocky Mountains. Until last month.
Suddenly, they turned up in nearby Lakes Mead, Mohave and Havasu. Any boats that come to Lake Powell a few days after being in infested waters are required to get a high-pressure hot-water wash.
Kevin Schneider: "Those decontaminations are offered free of charge by Aramark. That will totally remove the potential that there could be any Zebra Mussels on your boat."
If the Zebra Mussels do come into Lake Powell, experts say it could be anything from an annoyance to a disaster. It's estimated they cost the power and water industry billions of dollars each year by clogging filters and pipes. They also cover boat bottoms, seriously annoying the owners.
Pat Horning, Park Service scuba diver: "They can also sustain damages as things start to clog up their motors and their drives and the bottoms of their hulls. It's going to get expensive real fast."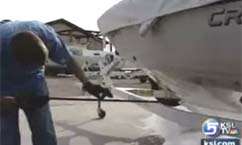 Boaters themselves are the front-line defense.
Kevin Schneider: "They can do the washing themselves by going to a car wash or doing it in their front yard with soap and water."
But the cleaning has to be thorough, inside and out. At certain phases of their life-cycle, the mussels are microscopic, almost impossible to see.
Jesse Granet: "With a lot of education and educating boaters we can fend off these guys."
www.100thmeridian.org www.wildlife.utah.gov/habitat/aquatic_nuisances.php
In some places in the East, the mussels have devastated fish populations. It's not known what their effect would be on fish in Utah, but they would probably be bad news.
×
Related links
Most recent Utah stories