Estimated read time: 2-3 minutes
This archived news story is available only for your personal, non-commercial use. Information in the story may be outdated or superseded by additional information. Reading or replaying the story in its archived form does not constitute a republication of the story.
Sam Penrod Reporting Having to go to the courthouse is usually not good news for anyone. But occasionally the news is good.
When I saw the Strong family walk out of the courthouse all smiles and posing for a picture, I had to ask what the happy occasion was. I even took this family picture for them, and as I talked to them I could see this growing family has an interesting story.
Meet the Strong family, with 12 children, all under the age of 17. The newest addition is Colby, whose adoption is now legally finalized.
Debbie Strong, mother: "It's a great and wonderful day in the history of our family. We're grateful to have him in our family and make it permanent."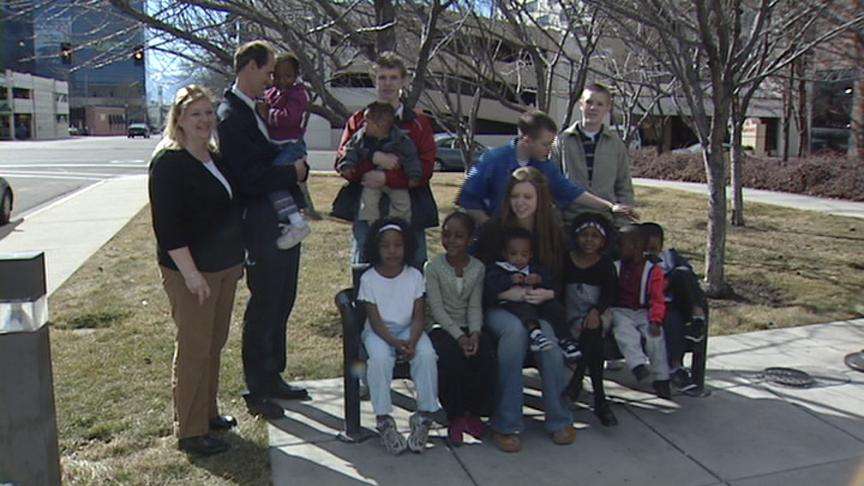 Colby is getting a lot of attention in the family from his six brothers and five sisters.
Sierra Strong, sister: "When I make funny faces at him, he thinks that's funny"
And believe it or not, their mom has no problem remembering all of their names and ages.
Debbie Strong: "Alison who is 17, Brent is 16, Scott is 14, Nate is 11, Mariah is almost eight, Shania is six, Sierra is six, Jaden is six, Tamera is three, Ty is three, and Keven is 18 months and Colby, who we adopted, is eight months."
Jeff and Debbie Strong admit having 12 children is challenging, but they find it rewarding.
Jeff Strong, father: "Years ago we would have never guessed we would have 12 either, so it's been a process, one step at a time, that we felt we could do a little bit more."
Debbie Strong: "We started adopting seven years, almost eight years ago, and they've come one at a time, some of them are close in age, the oldest 22 months and the youngest five days."
And with so many young children, it takes a lot of effort to keep everything organized in the Strong's home. For example, Debbie spent two hours in the morning braiding Shania's hair. But they say parenting is about giving.
Debbie Strong: "I'm happiest when I'm busy. I enjoy the time with them. I enjoy watching the kids grow and helping them achieve their fullest potential."
Will there be more additions to the family?
They say for now, 12 seems to be the perfect number.
×
Most recent Utah stories