Estimated read time: 4-5 minutes
This archived news story is available only for your personal, non-commercial use. Information in the story may be outdated or superseded by additional information. Reading or replaying the story in its archived form does not constitute a republication of the story.
Debbie Dujanovic reporting, produced by Kelly JustAs fast as you get them, it seems it's time to renew.
Shopper; "Salt Lake Magazine, Better Homes and Gardens, Family Circle, it looks like a renewal notice for a national magazine."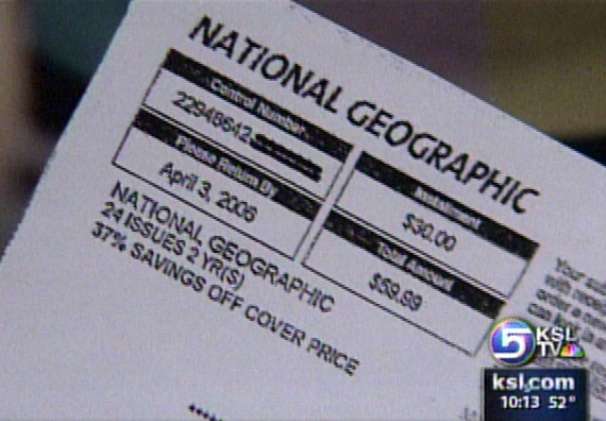 But before you send off your money, see what we uncovered. Investigative Reporter Debbie Dujanovic is here with a warning about something that could be in your mail.
It's a business that has magazine publishers fed up and fighting back. Chances are you've received a magazine renewal notice and sent in your money, but is it really from the publisher or someone else?
We followed the trail and think you'll be surprised where this nationwide enterprise happens to call company headquarters.
Shopper: "Does it look like a renewal notice? Yeah."
Shopper: "That looks pretty convincing."
Shopper: "It looks like a renewal notice for a national magazine."
Shopper: "It looks like you're mailing something to National Geographic."
However, it actually ends up at a P.O. box in Utah.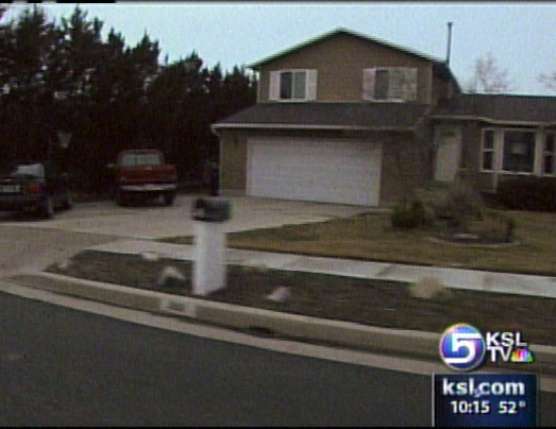 Jane Driggs, Utah Better Business Bureau: "We've received dozens and dozens and dozens of complaints."
It's such a problem, people in 31 states want the Utah Better Business Bureau to help get their money back. One in Houston says he renewed for $5, but the magazine never came. A Michigan school sent 87 bucks to Utah but never got its order.
Jane Driggs: "I think consumers are very confused when they get the notice in the mail. They think it's from the publisher."
Case in point, an Idaho woman got confused when she received two renewal notices. She should've sent her money in with just one. For starters, the logo matches the magazine's. She was fooled by the other one that also says "Newsweek," so she wound up sending her money to the Utah address printed on it. Wrong choice; her magazine never came.
We obtained a bunch of examples of renewal notices that look legitimate enough but may have absolutely no connection to magazine headquarters.
A multi-million dollar industry is up in arms over it, plastering the pages of your favorite magazines with consumer alerts, warning readers worldwide of a "dirty little secret," a "rotten deal," beware of what's in your mailbox:
A major midwest publishing company has lost so much money, it's filed a lawsuit. The suit accuses several companies in six different states, including Utah, of fraud and racketeering. The suit accuses the companies of creating their own renewal notices, which look like the real thing, then collecting and keeping the subscription money.
We tracked down the Utah connection to all this. We followed a nationwide paper trail of court and business documents and ended up at a home in Sandy. It is headquarters of Publishers Billing Services, one of the companies accused of sending out those phony notices.
Debbie Dujanovic: "There's some really serious allegations."
Jeff Hutchings, president, Publisher's Billing Services: "I can't make any comments right now."
He told us his attorney won't let him respond.
Debbie Dujanovic: "People tell us they feel fooled by those renewal notices, are you fooling people with those notices?"
Jeff Hutchings, president, Publishers Billing Services; "Ma'am I can't talk about it."
Publishers Billing Services did send us a statement saying it's now out of the subscription renewal business, but they're still being sued, along with that list of other companies.* Magazines think insiders may be selling customer lists to them.
Make sure you don't get tricked. Know your actual renewal date. It's printed right on the magazine label. Also, the address on the real renewal notice will match the publisher's address on the inside of the magazine.
Here are some tips to make sure your money goes to the magazine publisher:
1.) Spot your renewal date on the mailing label of your magazine. You can usually find it across the top of the label. If you get a renewal notice and your subscription's not due for a while, question that notice!
2.) Many magazines are now wrapping your renewal notice in your last issue, so you know it's legitimate.
3.) If you get a random renewal notice in your mailbox, compare the address on it, to the subscription mailing address inside your magazine. You can usually find the magazine's address a few pages in, toward the bottom of a page. If the addresses don't match, watch out.
4.) When in doubt, call the publisher directly.
×
Most recent Utah stories