Estimated read time: 3-4 minutes
This archived news story is available only for your personal, non-commercial use. Information in the story may be outdated or superseded by additional information. Reading or replaying the story in its archived form does not constitute a republication of the story.
SALT LAKE CITY -- Utah Highway Patrol troopers were busy Wednesday morning, but by the afternoon things slowed down a bit.
In Salt Lake and Utah counties there have been 88 wrecks, 12 accidents with injuries and multiple slide-offs. In the past two days, there have been more than 330 accidents and at least one fatality.
Related:
Troopers say drivers did seem to heed their warnings Tuesday night to slow down for Wednesday's commute. The problem, they say, was slush and ice.
Utah Highway Patrol Sgt. Robert Breck said, "It's not so much that they're going over the speed limit -- they can be driving 35 mph, and it's too fast for the conditions of the road -- so that's the nature of the beast when you're driving out in this weather."
One of the biggest trouble spots trooper had Wednesday morning was along I-80 at about 9800 West in Magna. One after another cars slid off the road into the embankment and, in some cases, even rolled. Troopers helped a group of friends push their car out of the ditch.
Michael Cheshire said, "Right before I was like cool, we get to see a wreck, and then we go off into the ditch."
There was also a rollover on I-80 and 5800 West.
Breck said, "Because of the lake effect and other things we get more snow out here on I-80 and it builds up quicker, and because it's not traveled on as much as I-15 or I-215, then it freezes quicker and it doesn't give a chance for the salt and brine water to be mixed in with it to clear it up."
This storm initially hit Davis and Weber counties particularly hard, with reduced visibility and patches of snow along parts of the I-15 corridor there.
Commuters northbound along the Salt Lake Valley saw slowdowns in areas, with numerous slick spots, accidents and slide-offs. Speeds were better through Utah County.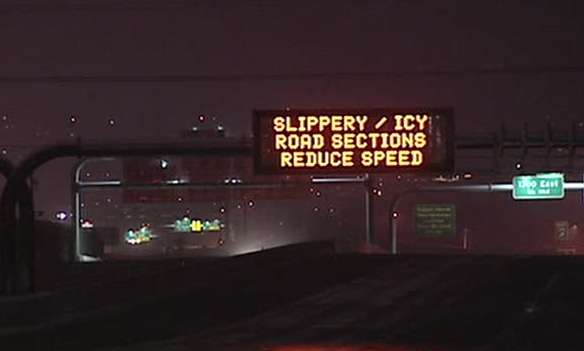 Motorist Cody Graham was driving onto northbound I-15 at 5300 South around 1 a.m. He says he was traveling too fast for the slick conditions when his car hit a patch of ice, smashed into a wall and rolled several times.
"It's just like a movie. You see everything in your car flowing with you, with the car. It's pretty cool, but I don't wish it upon anyone," he said. "Whatever you do, if you're hitting ice, don't hit the brakes. That's I learned tonight."
The slick conditions got the best of an overturned semitrailer in Farmington. The driver was OK.
The snow was a surprise for one family in South Ogden
The Halls are experiencing their first Utah winter.
Justine Hall explains, "Well, we're a military family, and we just came from the Middle East this summer, so this is a big change for us."
The snow turned out to be a teaching moment for their son Jacob. He's learning how to use a snow blower. Justine says, "Our neighbors say you better buy a snowblower before they are gone, and we bought one."
The family says they came out to dump the trash and didn't realize how much snow they got -- about 4-6 inches.
Justine says she's ready for more. She says, "Bring it on. As long as we don't have to go to work, we're happy. We're going to get on the slopes pretty soon and enjoy it."
If you were lucky enough to not have to drive in this weather, you probably were on shovel duty. The storm brought a fresh layer of snow. We caught several people armed with shovels or behind the plow clearing sidewalks and driveways.
KSL Meteorologist Grant Weyman says between 1 and 6 inches has fallen in most locations, with North Ogden reporting a bit more. We're still in for some snow at times through evening, with some additional accumulation possible. Areas near Cedar City should see snow through evening. Things should clear up Thursday.
------
Story compiled with contributions from Shara Park and Anne Forester.
×
Photos
Related links
Related stories
Most recent Utah stories