Estimated read time: 2-3 minutes
This archived news story is available only for your personal, non-commercial use. Information in the story may be outdated or superseded by additional information. Reading or replaying the story in its archived form does not constitute a republication of the story.
John Hollenhorst Reporting Here's something that'll probably be a surprise: The Air Force once dropped a nuclear bomb on the state of Utah. We're pretty sure it happened by accident in 1961. The H-bomb didn't explode, but the story of what happened next is very intriguing.
The Air Force has never confirmed an H-bomb fell on San Juan County in 1961, but a plane blew up that usually carried nukes, and the government response raised eyebrows in a way that's still talked about today.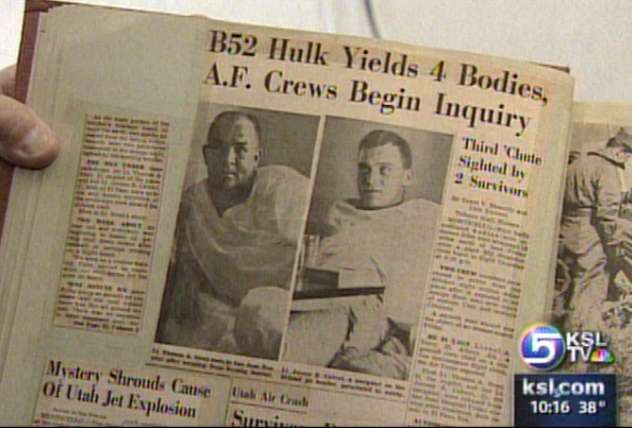 It happened in the sky high above Church Rock, a familiar landmark near Monticello.
Bill Boyle, Owner & Publisher, The San Juan Record: "Most of the stories I heard was of young kids playing in their yards and seeing this enormous explosion."
Newspaper publisher Bill Boyle is too young to remember it, but his paper covered it the night before President John Kennedy was inaugurated.
Bill Boyle: "The San Juan Record reported the sheriff was at Crescent Junction, which is about 80 miles north, and he saw it clearly."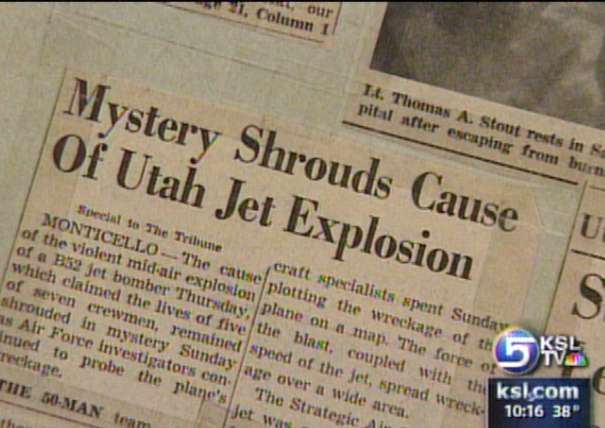 From highway 191, you can still see some of the wreckage. A short hike gets you there. Perched on a ledge is a chunk of wing 35 feet long, the remains of a huge B-52 bomber.
Gary Torres, Monticello Resident: "Really quite surprising that it didn't get hauled away, given the effort they used to clean up the debris."
The explosion that tore the B-52 apart was not nuclear. It was an engine fire that roared out of control. Two airmen parachuted to safety. Four others were found dead quickly. One airman ejected by parachute but was missing.
Bill Boyle: "And I've heard stories that there were fires all over the place, debris burning. And people rushed into the fray to try to help out, looking for this airman who hadn't been found."
Local search and rescuers never knew what was aboard the plane. They were busy searching for a missing airman. And they were a bit miffed when the federal government came in and took over.
Highway Patrol trooper Bob Low was one of the searchers.
Bob Low, Retired U.H.P. Trooper: "Then when we wanted to go look around in the area, they said no, we couldn't go in there."
At the time, the Air Force said the B-52 carried no nuclear weapons, but locals believed the government was more interested in securing the area than searching for the missing man. On the second day, he was found dead.
Bob Low: "In fact, the chief said his fingers were still warm."
Bill Boyle: "Parachuted to safety, apparently, and froze to death after a couple of days."
So, were H-bombs on board? Bill Boyle recalls a department of energy report in the 1970s labeling it a near-miss nuclear accident. We learned of a 1992 report by the E.P.A. saying the area might have been contaminated by nuclear weapons, but the Air Force still has never confirmed it.
×
Most recent Utah stories