Estimated read time: 2-3 minutes
This archived news story is available only for your personal, non-commercial use. Information in the story may be outdated or superseded by additional information. Reading or replaying the story in its archived form does not constitute a republication of the story.
BRIGHAM CITY -- Dozens of drivers passing through Brigham City this week received a surprise Christmas gift: a free tank of gas. They have a Utah family to thank for it.
The Box Elder County family put a new twist on the holiday gift giving tradition, and their only request to those who receive the free tanks of gas is that they pay it forward.
They gangs of Santa-hat-wearing strangers pop up unexpectedly, bearing the unexpected gifts, and each encounter is recorded on home video.
"How are you guys doing?" they ask one lucky recipient. "Mind if we fill you up with gas?"
"You don't have to," he says.
"We know. We want to," one of the family members says.
The Box Elder County family, who asked that we withhold their names, has been doing this for two years.
"I said, what if we took the five dollars we spend on each other and put it towards this gas giveaway?" a woman in the family said.
They got a Brigham City company to match what they raise, and this year gave away more than $700 in free fuel in a two-hour period Tuesday.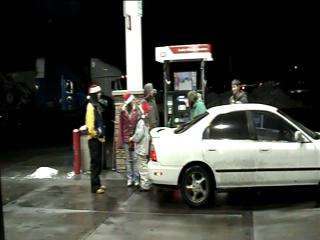 "It's not about the gifts. It's about the love we give," a little girl in the family said.
It's about the people they meet, like the guy they spotted sorting dollars bills in the gas station parking lot.
"He was counting out his money to see how much money he could put in for gas because he needed to pay for gas and food," another female family member explained.
And the woman who burst into tears when asked if she would like a free tank, and travelers just passing through.
This year they were in Brigham City, but they say they'll mix it up next year to make sure it's a Christmas surprise to all.
"Just take it and go and do something for someone else," one woman said.
The family plans to watch the home video they recorded together on Christmas.
E-mail: sdallof@ksl.com
×
Most recent Utah stories