Estimated read time: 4-5 minutes
This archived news story is available only for your personal, non-commercial use. Information in the story may be outdated or superseded by additional information. Reading or replaying the story in its archived form does not constitute a republication of the story.
CEDAR CITY -- Junior guard Ryan Brimley scored 24 of his career-high 26 points in the second half to lead a foul-plagued Southern Utah University past UC Riverside 76-65 Monday night in the Centrum Arena, snapping the Thunderbirds' six-game losing streak and handing the team its first win in a month.
SUU's last victory was a 79-61 win over Wayland Baptist on Nov. 21, in a game which Brimley led the T-Birds with 21 points.
"It feels good," Brimley said. "We lost the feeling of a win and finally got it back. Guys just stepped up when they needed to come in when we were in foul trouble, but we just kept chipping away."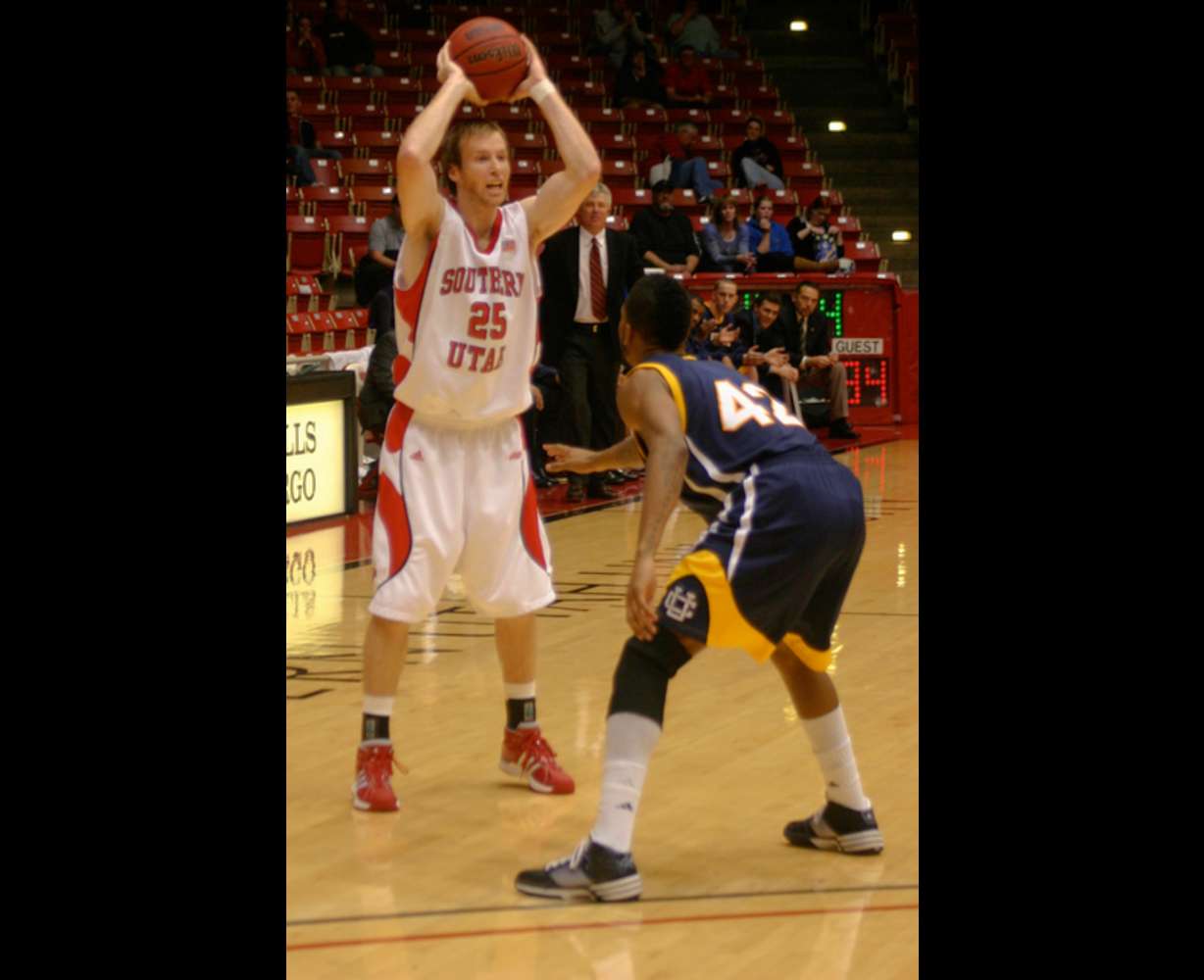 SUU (4-8) lost three of its starters in the second half because of foul trouble, including senior guard Davis Baker, who had 16 points before picking up his fourth foul with 17:40 left in the second half and only played another three minutes before fouling out with 2:29 remaining in the game.
"It hurt not having Davis on the court because he's just a fabulous player, but somebody had to step up and somebody has to take the shots," Brimley said. "Davis is our go-to guy, getting the majority of the shots, which is what we go for, but when he's not there somebody has to hit them."
After Baker checked out with his fourth foul, Brimley led the T-Birds with 15 of its next 20 points in the following 10-minute span to help SUU pull away for the victory.
"What I'm pleased about is this, first of all, a win is good and especially before the holidays," T-Bird Head Coach Roger Reid said. "But, the thing that was nice was that we had a lot of people that came in (off the bench) and did some things to keep us in the game and to even add to what we were doing."
Despite trailing all but five minutes in the first half, the T-Birds led throughout the second half and were able to lead by as many as 11 points to pick up the win.
Conversely, SUU's largest deficit was six points, when UCR (6-5) had a 25-17 lead at the 9:09 mark of the first half after a dunk by junior forward Kyle Austin.
Baker, freshman center Matt Hodgson and sophomore forward Matt Massey, all starters, fouled out of the game for the T-Birds.
Although the SUU played the majority of the second half in foul trouble, they were bailed out by UCR's poor free throw shooting. The Highlanders hit just 12 of 27 (44 percent) free throws, compared to the T-Birds' 22-for-28 (79 percent) free throw shooting.
Baker said he wasn't too sure about some of the calls; he was pleased that even with some of the starters in foul trouble, the team was still able to move on.
"There were a lot of questionable calls, but that's not really up for us to debate," Baker said. "Despite all of that, we were still able to come out with the win and we had a lot of good guys come in and step up and fill those positions. It was a testament for our team to come in and do that."
Baker, who played just 20 minutes, scored 16 points, while Massey added 10 points and Hodgson collected eight points and a career-high four blocked shots for the T-Birds.
Senior guard Drew Allen also contributed with a couple of momentous 3-pointers in the second half for SUU.
The T-Birds shot 52 percent (22-for-42) from the floor in the victory and 50 percent from 3-point range (10-for-20). The Highlanders shot just 28 percent (9-for-32) in the second half to finish at 38 percent shooting in a losing effort.
However, UCR did outrebound SUU 39-33 in the game, including 20-5 on offensive boards.
Brimley said he thought some of it was due to just bad luck, but he also said the team still needed to work harder garnering rebounds.
"They did beat us on the offensive glass, but we were being just as aggressive as they were," Brimley said. "I mean a lot of times the ball is just going to go to them, but at the same we have to do better at rebounding."
Austin led the Highlanders with 21 points and a game-high 14 rebounds.
The T-Birds will now take some days off to enjoy the holidays before returning to the court next week against Nebraska.
"We get a few days off and then we'll come back and get ready for Nebraska," Baker said.
Tip-off against the Huskers is scheduled for 7 p.m. Central time inside the Devaney Center in Lincoln, Neb. on Dec. 29.
×
Most recent Sports stories