Estimated read time: 3-4 minutes
This archived news story is available only for your personal, non-commercial use. Information in the story may be outdated or superseded by additional information. Reading or replaying the story in its archived form does not constitute a republication of the story.
SALT LAKE CITY -- In 1949, Harry Truman was president and Winifred McLachlan developed Type 1 diabetes. Sixty years later, she still has it and she's still thriving. That alone makes her a story worth hearing at Christmas.
It's the time of year when most of us struggle to eat right, just one of the challenges McLachlan has faced every day for 60 years. Experts say she's an inspiration and an example of how different things are these days for diabetics.
---
There are 23.6 million people in the United States, or 7.8% of the population, who have diabetes. - American Diabetes Association
---
McLachlan, age 85, has seen a lot of nurses and doctors over the years, and she's had her finger poked for blood samples who knows how many times.
"At the present time, I do it seven or eight times a day; so it would be thousands," she says.
With insulin injections, sometimes several a day, for six decades, her life is a juggling act on top of a balancing act. The main challenge, McLachlan says, is watching what she eats and how much insulin she takes.
It started in 1949, when she was 25, with a cascade of health problems that turned out to be diabetes.
"Our usual prognosis back in those days was poor," says Dr. Dana Clarke, of the Utah Diabetes Center. "We actually expected people not to do all that well, to have limited life spans, to suffer from complications. That was the general rule."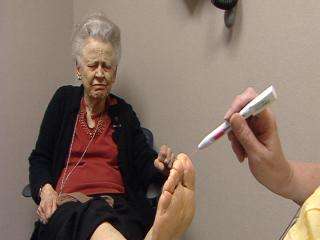 Those days now seem almost like the dark ages of medicine. There was much less understanding of the disease and much more primitive tools.

McLachlan's daughters now look proudly on a mom who was told she should never have children because of the disease. Instead, after her diagnosis she got married and had three children.

Her daughter Elaine remembers watching her mother deal with the disease a half century ago.

"Her syringes were glass," she recalls, "so she had to boil her syringes and sharpen her needles."

The challenge was learning to balance food, medicine and exercise; steering a tricky course between insulin shock and diabetic coma.

"You live with it every day," says Laura Burton, a nurse at the Utah Diabetes Center. "There's no vacation from diabetes."

**Did you know…**

• An estimated 120,000 people suffer from diabetes in Utah • Diabetes prematurely claims the life of one American every 3 minutes, and reduces the life expectancy of those who do survive by 15 years! • More than half of the people diagnosed with diabetes are unaware of having it until complications occur • It is the 6th leading cause of death in the United States, and is a contributing factor in many other deaths. *-[Utah Diabetes Center](http://healthcare.utah.edu/utahdiabetescenter/)*

McLachlan has none of the usual complications, such as circulation problems in her feet. One clinic used to award medals to diabetics who went just 25 years without major complications.

"They've done away with that particular medal since it's so common these days," Clarke says.

With 60 years at the controls, at age 85, McLachlan shows no sign of changing course.

"Well, I love life," she says, "and I feel it's been wonderful to me." Clarke says the key is not discipline so much as understanding. If diabetics learn about the disease and about nutrition, they can have an enjoyable diet and still live a long life. Winifred McLachlan seems to be living proof.

E-mail: jhollenhorst@ksl.com

×
Related links
Most recent Utah stories