Estimated read time: 3-4 minutes
This archived news story is available only for your personal, non-commercial use. Information in the story may be outdated or superseded by additional information. Reading or replaying the story in its archived form does not constitute a republication of the story.
KSL Team CoverageMany questions surround a car fire yesterday in Tooele County. One man is dead and another has severe burns on more than half his body. Investigators say it all points to murder.
One person is dead, another in critical condition. They were caught in a car that went up in flames near Delle, in Tooele County. One of them may have been shot beforehand.
Officers are calling this case bizarre.
Before 7:00 Sunday morning, a driver going through Delle on I-80 noticed a car on fire to the north of the freeway. The driver called 911, and Highway Patrol troopers responded. Because this is a remote area, it took them 14 minutes to get there.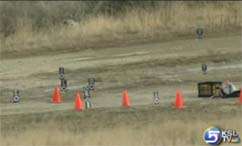 Sheriff Frank Park, Tooele County Sheriff's Office: "The vehicle was totally engulfed in flames. One individual did get out and he was found in bad shape. He was burned over about 54 percent of his body."
We're told that one victim is a 24-year-old Hispanic man. He was found about 50 feet away from the car in some sagebrush. Burns were not his only injury.
Sheriff Frank Park, Tooele County Sheriff's Office: "The deputies did notice a wound to the neck. They don't know if it was a cut or a gunshot wound. They believe that he said that he had been shot."
That man was flown to a hospital. Meanwhile, officers made another discovery at the scene.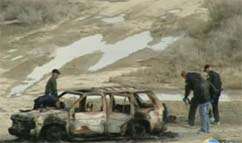 Sheriff Frank Park, Tooele County Sheriff's Office: "When the flames were extinguished, there was another individual in the back seat. That body was burned."
The body was burned so badly officers haven't been able to identify the person. They believe it was a man. Right now they have a lot of unanswered questions. Their best chance for answers is the man in the hospital, who they didn't want to identify.
Sheriff Frank Park, Tooele County Sheriff's Office: "We don't know the circumstances of what happened out here. If someone did intend to do harm to him and realized they didn't get the job done, he may be in some danger."
Investigators combed the area for evidence, even analyzing foot and tire tracks to see what people or cars might have been there. The sheriff admits this looks like an execution-style death.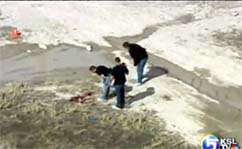 Sheriff Frank Park, Tooele County Sheriff's Office: "Well it could have been, depending on the person that came out of the vehicle. What his circumstances are can tell us a lot."
The sheriff told us the car was registered to a Salt Lake address, but the name does not match the victim that was taken to the hospital. That man is in a medically-induced coma because of his burns. As you can imagine, officers are eager to talk to him. They plan to send an investigator and an interpreter to the hospital as soon as he is ready to talk.
Police are awaiting autopsy results. They have identified the owner of the SUV that was burned. Investigators were interviewing his wife. She told them that she last saw her husband on Saturday and she doesn't know where he is. He lives in Salt Lake City.
Investigators believe that whoever the suspect is was at the scene just minutes before it went up in flames.
Travis Scharmann, Tooele County Sheriff's Office: "I'm very concerned and right now me and my detective unit are trying to get to the bottom of it and put the pieces together to figure out what exactly happened.
The surviving victim is in a coma in the hospital right now.
If you were in the area of mile-marker 70 near the Delle exit and saw anything suspicious early Sunday, please call the Tooele County Sheriff's office at 435-882-5600.
×
Related links
Most recent Utah stories