Estimated read time: 2-3 minutes
This archived news story is available only for your personal, non-commercial use. Information in the story may be outdated or superseded by additional information. Reading or replaying the story in its archived form does not constitute a republication of the story.
WEST VALLEY CITY -- A neighborhood in West Valley is trying to get the city to fix a dangerous section of road. Neighbors believe a slant in the road is causing accidents that repeatedly disrupt their power.
Last Sunday, a truck slid right off the road near 4700 South and 5200 West, and into a power pole. The crash knocked out power to the entire subdivision north of the street.
"Probably two to three hours for our house. I know there were other homes that their phone lines were out for quite a while, and their Internet was down for a couple of days," says Alison Smith, who lives near the accident scene.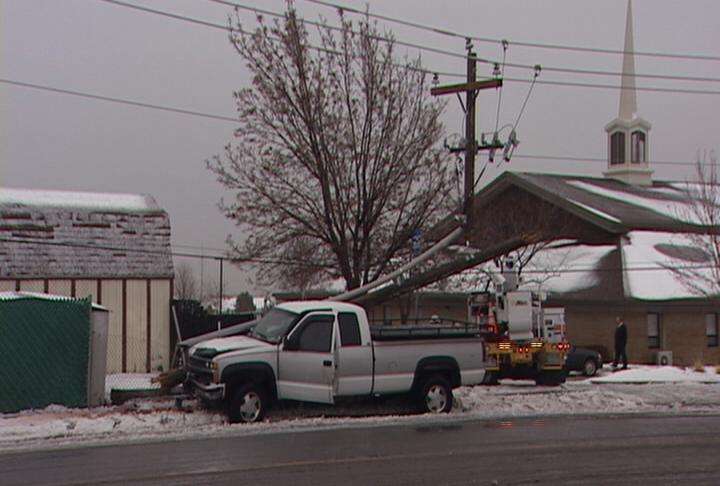 Unfortunately for Smith's neighborhood, residents know just what to expect when it gets icy.
"At least once a winter you can count on it," says neighbor Maurine Newbold. "Sometimes it's several times it's happened."
"It's a proven fact that it happens every winter, and it could easily happen again. It could happen tomorrow," Smith says.
Smith and Newbold have both been living in the neighborhood for over a decade. They believe it's the road that needs to be fixed.
"It slants down into the curb," Smith says. "So, it's not that these people are driving recklessly, it's that when the road is icy your car automatically slants down with the road."
West Valley City controls engineering and maintenance on that side of the street. City officials say, as far as they know, nothing is wrong with it.
"From an engineering perspective, there's nothing abnormal about the street. There's nothing wrong with the street. It's been maintained properly," says West Valley City spokesman Aaron Crim.
Although neighbors say these accidents happen annually, the city says this is the first time they've heard of a problem.
"It's just a matter of it snows in Utah, we need to slow down and be careful; and accidents do happen," Crim says.
"We kind of expect it, but we wish something would be done about it," Newbold says.
According to Crim, a city engineer is scheduled visit the neighborhood Wednesday to assess the road.
E-mail: ngonzales@ksl.com
×
Most recent Utah stories