Estimated read time: 2-3 minutes
This archived news story is available only for your personal, non-commercial use. Information in the story may be outdated or superseded by additional information. Reading or replaying the story in its archived form does not constitute a republication of the story.
WEST VALLEY CITY -- A growing and popular program credited with improving student academic performance has cleared one major hurdle as it fights to survive. The program was potentially on the chopping block due to state budget cuts, but the governor has recommended it continue to get funding.
Thanks to the down economy, there are many tough decisions to be made this year on Capitol Hill. But supporters of an innovative arts program have rallied to save one program and, so far, leaders on Capitol Hill are listening.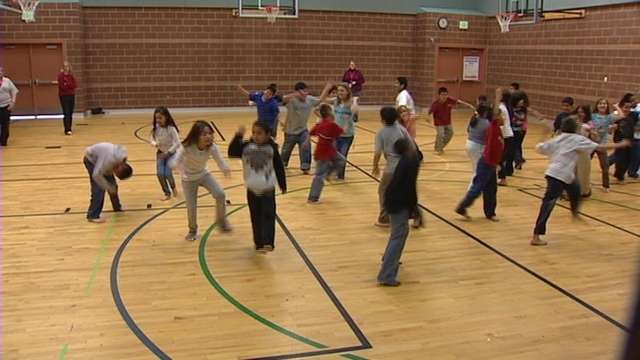 At Redwood Elementary the children get a chance to do something missing in many schools these days: dance. They can thanks to the Beverly Taylor Sorenson Arts Learning Program -- a private-public collaboration which teaches arts to kids, linking lessons learned in other classes.
Third-grader Jorge Olayo said, "We get to have fun and play activities and things; and while we have fun, we also learn."
The program is possible thanks to philanthropist Beverly Sorenson, who helped create Art Works for Kids. With the state's budget tight, she's been traveling the state, rallying parents to save it.
"All these little children are unique, and they're special, and they deserve the best. And that's what we need to do, give them the best that we can. If we do that, we will change our world," she said.
Related:
The governor is recommending the program receive the $1.3 million needed to keep it running for a third year. It serves 52 schools across the state.
Educators say the program has improved academic performance, giving kids new opportunities, even cutting down on bullying.
Heather Nicholas, the principal at Redwood Elementary, said, "So getting grant money to bring in these teachers and hold onto them is precious. What Beverly Sorenson does, we cannot replace that."
Doug Foxley, a lobbyist for Art Works for Kids, said, "It's amazing. There are a lot of difficult decisions that had to be made, and I think Gov. Herbert really understood what this program does for the students and public education."
Without it, dance instructor Holly Mayne says, "You're just back to the basics. For me, I think I just would have been lost without those things growing up."
State lawmakers will begin grappling with the details of the state budget -- what will be cut and what won't -- when they reconvene next month.
E-mail: jdaley@ksl.com
×
Related links
Related stories
Most recent Utah stories