Estimated read time: 2-3 minutes
This archived news story is available only for your personal, non-commercial use. Information in the story may be outdated or superseded by additional information. Reading or replaying the story in its archived form does not constitute a republication of the story.
JUAB COUNTY -- Federal officials are proposing a hefty increase in fees at one of Utah's most popular recreation areas.
Depending on which plan you choose, it could nearly double the cost of racing around on the Little Sahara sand dunes.
To some degree, we've all been subsidizing the recreation at Little Sahara whether we go there or not. That's because the place loses money. The shortfall has to be made up by U.S. taxpayers. That's what officials hope to change.
Motorsports enthusiasts flock to Little Sahara, especially on holiday weekends. This year nearly 300,000 people went. Next year the feds want them to pay more for the privilege.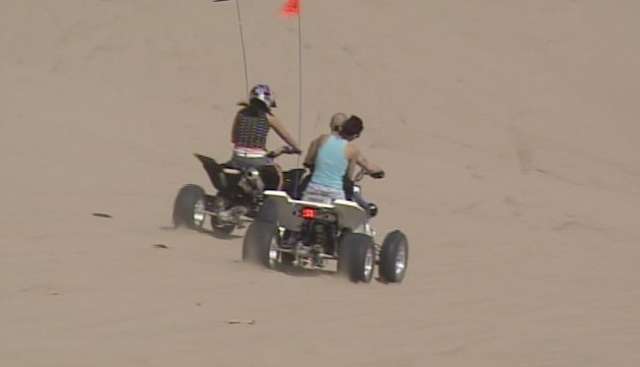 It costs money to run the place for staff, utilities, toilets, camping facilities and other services. However, visitors have not been paying enough to keep it in the black. So the Bureau of Land Management is proposing a significant increase.
"What we're trying to do is kind of pay as we go with our operation out there," said Glenn Carpenter with the U.S. Bureau of Land Management. "The new plan is to try to get the revenue that we generate to approximately match the amount that we spend every year. We're not trying to make a lot of money but we are trying to make ends meet."
Under the proposal, the annual vehicle pass would jump from $75 to $120. The one-day pass, which currently costs $8 per vehicle, $10 on holidays, is being scrapped entirely.
Instead there will be a two-day pass for $25, $30 on holidays or a new seven-day pass for $40.
The government does plan to sweeten the deal. Twenty miles of dirt roads in the area will finally get pavement this spring at a cost of $7 million.
Well-publicized crashes this year focused attention on safety issues, especially the crash that killed former Congressman Bill Orton. However, the fee increase will not affect staffing for enforcement and emergencies.
"I think the risks are pretty constant," said Carpenter. "There's additional technology, more horsepower, in some of the vehicles. So they go faster and jump farther. If people exercise some restraint in what it is that they do, then it will still remain a very safe place to go and play."
The BLM is accepting written comments for the next month. The new fee plan is expected to be approved in January and in effect in April.
E-mail: hollenhorst@ksl.com
×
Related links
Most recent Utah stories