Estimated read time: 3-4 minutes

This archived news story is available only for your personal, non-commercial use. Information in the story may be outdated or superseded by additional information. Reading or replaying the story in its archived form does not constitute a republication of the story.

SALT LAKE CITY -- The planet just got a little smaller, thanks to a Utah man.

Everen Brown, the owner of a Salt Lake specialty advertising firm, has logged well over 1 million miles traveling to just about every corner of the world. This week, he unveiled a computer program designed to take you along for the ride.

- 2 poles (north and south) - 140 countries - 360 degrees - 568 days at sea on 35 voyages - 913 airline flights - 1200+ virtual tours - 1.5 million+ miles traveled

Brown has developed an electronic world atlas that gives armchair travelers a virtual tour of the Earth, in the round. It's main feature is a catalog of panoramic photos he's taken while crisscrossing the globe for more than 20 years, visiting some of Earth's most exotic and scenic places. "I'm right on the edge of 1.5 million miles for this project," Brown says.

He uses a spinning camera that takes high-quality panoramic photos. Each shot encompasses 360 degrees.

"[It's] its to bring back an image that puts the viewer in the same place that I was at," Brown explains.

He's kept detailed records and receipts over the years documenting his travels. That includes 913 airline flights, 568 days at sea on 35 ship voyages, uncountable trips in vehicles, on camels, elephants, even a donkey or two. He's been to both poles and 140 countries in between.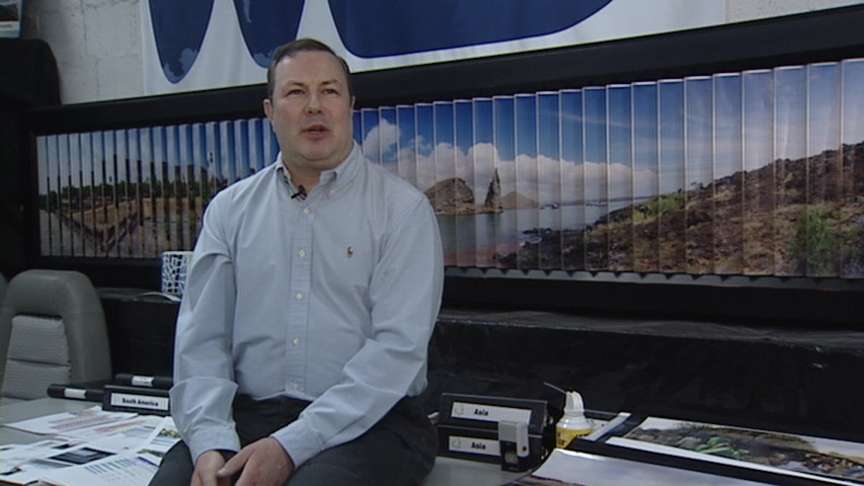 "I've spent a ton of money," Brown says. "I like to think part of it was I was shooting while I was on vacation."
Now he's hoping to recoup some of those costs by selling his new 360 degree World Atlas. It includes 1,500 of his favorite spots in a software package that allows a virtual traveler to click on spots all over the globe.
At each available location, the program allows the viewer can spin a panoramic photo all the way around, as if he or she was standing on that spot and turning a full 360 degrees.
"So, the viewer gets to have that same experience, that same amount of awe, that I had when I was standing in the middle of an emperor penguin rookery, or in the middle of a stadium in North Korea with 50,000 people performing," Brown says.
But doesn't Google already have something similar? Brown says his pictures are much higher quality, and there are extras.
"We have a ton of embedded information," he says. "You're going to not just look at a place and say, 'Wow!' You're going to also learn about that particular place. And I also give you some of my great travel tips, like how to get to Machu Picchu and avoid the crowds."
This week the 360 degree World Atlas premiered with just the Antarctica edition. The entire globe will be available next March, if you want to take it for a spin.
The program is available through Brown's website, 360Atlas.com.
E-mail: jhollenhorst@ksl.com
×
Photos
Related links