Estimated read time: 2-3 minutes
This archived news story is available only for your personal, non-commercial use. Information in the story may be outdated or superseded by additional information. Reading or replaying the story in its archived form does not constitute a republication of the story.
Jed Boal ReportingLast night we showed you exclusive avalanche video of a snowboarder swept up in a slide.
An avalanche forecaster and the man who shot that tape talked about the slide.
It's amazing video. Dramatic, but also educational. An avalanche forecaster tells me this avalanche is a prime example of just how dangerous conditions are right now.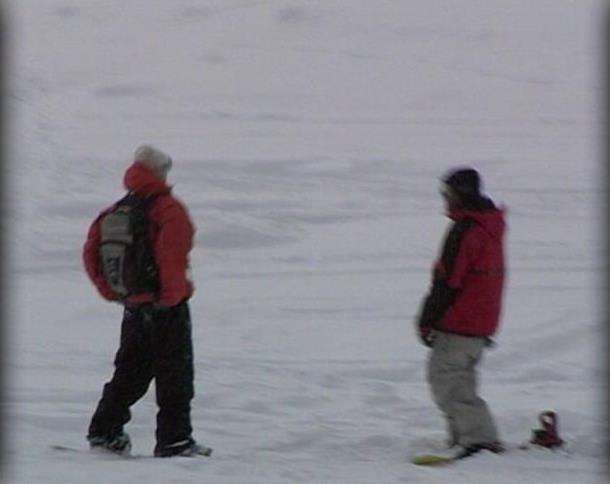 Snowboarder Chris Coulter eyes fresh powder as he kicks into a run off Clayton peak, out of bounds near Brighton.
Knut Carter, Cameraman: "There were a few tracks on the side, so we thought it would be pretty safe."
Knut Carter shot the video. Coulter catches air off a rock, but triggers an avalanche on the landing. As he sets up for another jump, he doesn't even know the snow is chasing him. Coulter hits a 360 and that's when he spots the slide.
Knut Carter, Cameraman: "Got out into the chute and my brother's yelling, 'Avalanche. Avalanche.'"
He races down as the avalanche catches him, roughs him up, spits him through the trees and dumps him over a cliff.
Knut Carter, Cameraman: "Once I saw it come hit him, my heart started racing, beating a hundred miles per hour."
Coulter recovers and rides it out.
Knut Carter, Cameraman: "He's probably one of the best in the world. Those avalanches are so powerful, they'll take anybody."
With more snow falling today and a sunny holiday weekend ahead, avalanche forecaster Bruce Tremper fears the worst, and says people could get themselves into serious trouble."
Tremper knows of dozens of human-triggered avalanches this week. A foot or more of dense snow last weekend piled up on a weak, faceted layer of old snow.
Bruce Tremper, Utah Avalanche Center: "It's like putting a brick on top of potato chips and tipping it on edge. That's what makes it so dangerous."
When a person collapses that weak layer the slab breaks away.
Bruce Tremper, Utah Avalanche Center: "It strains him right through those trees. He could have easily punctured a lung."
This was a small avalanche, 50-feet wide and a foot-and-a-half deep. Others are breaking four- to eight-feet deep and a quarter-mile wide.
Bruce Tremper, Utah Avalanche Center: "The more you jump and the harder you come down, the more likely you'll trigger an avalanche."
Knut Carter, Cameraman: "The conditions right now are so bad. There's a weak layer, and you never know when it's going to hit."
Bruce Tremper, Utah Avalanche Center: "He doesn't know how close he came to dying there."
Again, avalanche danger is rapidly rising. If you head into the back-country, check avalanche conditions. Tremper calls current conditions for experts only.
×
Related links
Most recent Utah stories