Estimated read time: 1-2 minutes
This archived news story is available only for your personal, non-commercial use. Information in the story may be outdated or superseded by additional information. Reading or replaying the story in its archived form does not constitute a republication of the story.
Gene Kennedy ReportingSalt Lake City police are expected to wrap up their investigation of a teenager who allegedly killed a family in a drunk driving crash. Charges could be filed today.
Salt Lake County District Attorney Lohra Miller has a lot to decide. The woman killed in that car accident was pregnant. So the D.A. could level a fourth charge against this teenager for the death of the unborn child. Lohra Miller says she feels passionate about that, but how police feel will also play into her decision.
The teen is 17 years old, a senior at Skyline High School. The D.A. could decide today to charge him as an adult.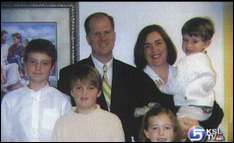 Police think he was drunk when he hit the Williams' car. The mother, Michelle, died along with her 11-year-old son, Ben, and nine-year-old daughter, Anna. Husband, Christopher, was also in the car but survived. Christopher is an LDS bishop and has tried to reach out to the teen.
Christopher Williams, Husband, Father of Victims: "Forgiveness is a source of power, but it is not something that relieves us of consequences."
Lohra Miller, Salt Lake County District Attorney: "It's my job as the district attorney to make sure our community is safe. And while the victim may forgive, I must do what I can to make sure we are safe and punish the person that committed the offense, if that's what happened."
The teenager who allegedly hit the Williams' car nearly hit another car before the accident. Police are still looking for that driver. He may be a witness. Police are asking anyone with information to call them.
Meantime, the viewing for the three victims who died is Friday. The funeral is Saturday.
Six-year-old Sam Williams remains hospitalized but has been moved out of intensive care.
×
Most recent Utah stories