Estimated read time: 3-4 minutes
This archived news story is available only for your personal, non-commercial use. Information in the story may be outdated or superseded by additional information. Reading or replaying the story in its archived form does not constitute a republication of the story.
SALT LAKE CITY -- Consumers are already familiar with energy drinks, but what about the other end of the scale?
Houston-based Innovative Beverages calls its latest drink "Drank." Company executives say it's "the go-to beverage for people looking to relax their body, mind and soul without resorting to medication or over-the-counter sleep aides."
While energy drinks giver users a boost, Drank does just the opposite. And if hectic times call for some calming, its maker may have found a niche in the marketplace.
You won't find the so-called slow your roll drink in most Utah stores. It's still too new for here. In fact, KSL News had to ask the manufacturer to send some sample cans so we could try it on some volunteers.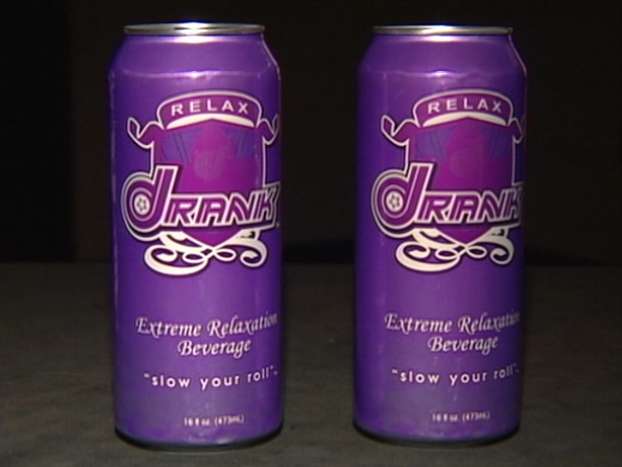 University of Utah biology major Jacob McDougal agreed to try it. He drank a 16-ounce can at home while doing homework.

"At first I was skeptical," McDougal said. "Then I noticed I started getting a little cloudy in the head. I don't know now if I was that relaxed, but more getting kind of drowsy -- kind of the way you are just before you fall asleep."

While the beverage resembles a competitor called "Purple Stuff," Drank touts a recipe combining a natural part of brain chemistry, called melatonin, with Valerian root and rose hips.

University of Utah pharmacologist Dr. Glen Hanson said melatonin alone can make you sleepy.

"A number of papers suggest that it may have a subtle sedating effect. It's been promoted for jet lag," Hanson explained.

Some papers also suggest Valerian root may enhance a brain transmitter, but Hanson warns the recipe has not yet passed the scientific challenge.

"Until you do the science, until you do the double-blind studies, you can't really say it has the pharmacology. It may have the suggestion, but you don't know whether it has the pharmacology," he said. "You can't go to a paper or a scientific journal that says, 'Oh yes, we looked at the combination of melatonin and Valerian root and it caused "X" amount of sedation.'"

KSL Television producer Angie Denison also took the product home.

**"Relaxing" ingredients**

- **Melatonin** is a hormone produced naturally in the brain. It helps regulate sleep and regulates the body's natural time clock. - **Valerian Root** comes from the hardy perennial flowering Valerian plant. Ancient Greeks used it for a variety of medical disorders ranging from liver problems, digestive ailments, and urinary tract disorders to nausea and insomnia. It has also been used for centuries for nervous conditions and has been traditionally used for sleeplessness, epilepsy, nervousness, hysteria and as a diuretic. - **Rose hips** are the seed pods of roses and are high in Vitamin C and have traditionally been used to treat diarrhea, nervousness, exhaustion, stress, urinary problems.

"It probably took about 15 or 20 minutes before I noticed a calming influence kind of happening; just kind of mellowed out a bit more," she said. Stimulation up, stimulation down: It's a pharmacological game we all play in these times, but Hanson also warns consumers to beware of possible interactions with alcohol or prescription drugs.

"They're taking a benzodiazepine -- a Valium drug -- to treat anxiety, or they have a cold or an allergy and are taking some antihistamines; all of these are depressants," Hanson said.

The label on Drank clearly warns of drowsiness and says no more than two servings (one 16-ounce can) should be consumed within a 24-hour period. Bottom line: If you drink Drank, use common sense.

Drank runs about $1.99 to $2.49 a can, which is comparable to other drinks which fall into a niche now labeled as "functional beverages."

E-mail: eyeates@ksl.com

×
Related links
Most recent Utah stories