Estimated read time: 2-3 minutes
This archived news story is available only for your personal, non-commercial use. Information in the story may be outdated or superseded by additional information. Reading or replaying the story in its archived form does not constitute a republication of the story.
Sandra Yi Reporting The woman accused of embezzling nearly a million dollars from the Weber School District Foundation says her family didn't know about it. Denise Aughney was arrested this morning.
In a sworn affidavit Denise Aughney admitted taking money from the Foundation and described how she did it.
Excerpt from affidavit: "The funds from these checks were deposited and credited against my credit card accounts. I then used my credit card accounts to obtain cash advances and make purchases."
Aughney says payments were made to her credit card accounts.
In her affidavit, she says, "I then used those accounts to get cash advances and make purchases."
When the Foundation confronted her about the missing money, she began moving her assets to protect her family.
In her affidavit, she says, "I became fearful of how my activities might affect persons whom I love, including my husband children, and parents..."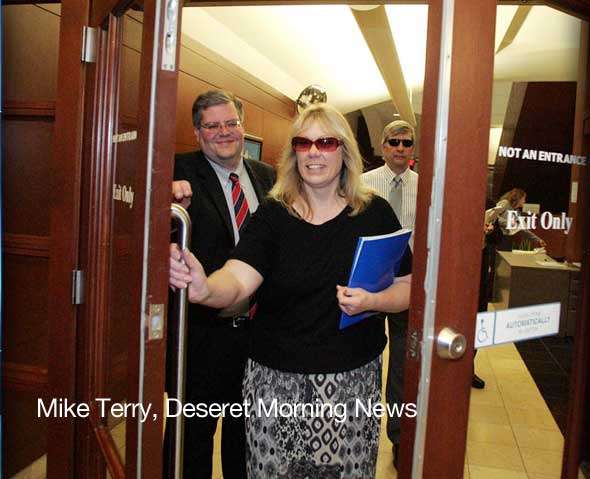 She says, in December, she prepared two quit claim deeds to her homes.
Aughney says a 6-page list, showing checks taken from the Foundation, is everything she took from the District. Aughney is charged with 57 felony counts of theft, money laundering and forgery.
Officers arrested her this morning. Prosecutors don't know where all the money went and say there's a lesson to be learned from this.
Mark Decaria, Weber County Attorney's Office: "Any business or corporation that deals with large amounts of money needs to have sufficient oversight with their personnel cause it takes the combination of holes or lapses in oversight together with a dishonest person and you can be down the road with a dangerous situation."
Aughney was a secretary for the Weber School District Foundation which helps special needs kids and children in the school district.
Late last year, staff members noticed some higher than expected expenses and budgets not being met. Aughney was fired in December.
The Foundation has also filed a civil suit against her. Aughney will be in court next week. Her attorney did not return our calls today.
×
Most recent Utah stories