Estimated read time: 4-5 minutes
This archived news story is available only for your personal, non-commercial use. Information in the story may be outdated or superseded by additional information. Reading or replaying the story in its archived form does not constitute a republication of the story.
SALT LAKE CITY -- As sports fans in the state of Utah we just witnessed an incredible weekend that may never be duplicated. For four straight days, from high school to the pros, local players and teams made history.
It started in San Antonio Thursday night. The Utah Jazz had not won a game in San Antonio since Feb. 28th, 1999- that's more than 10 years. That changed thanks to double-doubles by Deron Williams and Carlos Boozer, who is playing at an all-star level after a tumultuous summer. The emotional victory ended a 20-game road-losing streak to the Spurs.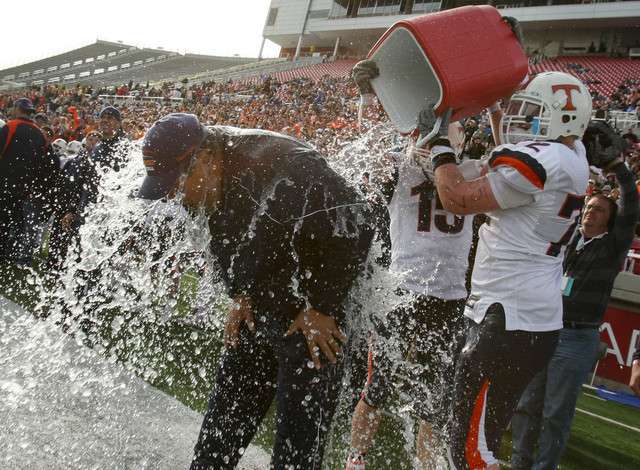 On Friday, champions were crowned in the 5A, 4A, and 3A high school football championships at Rice-Eccles stadium. Timpview made history becoming just the fourth school in Utah to win four consecutive state championships when they defeated Springville 35-6 to claim the 4A title.
The Bingham Miners survived a scare from the Davis Darts and rallied to claim their second 5A title in four years.
Then Juan Diego repeated as 3A Champions thanks to a last second miracle. Quarterback Cody Stevenson threw a Hail Mary into the end zone that was caught by receiver Bruce Nix as time expired to claim the title.
Another milestone was reached late Friday night 3,000 miles away. BYU Head Basketball Coach Dave Rose won his 100th game in an 83-65 victory over Hawaii. No basketball coach at BYU has reached 100 wins faster than Rose.
More history was made in Provo on Saturday during BYU's 38-21 victory over Air Force. With three minutes left in the 1st quarter, Harvey Unga passed his mentor and former teammate Curtis Brown to become BYU's all-time leading rusher. Max Hall won his 30th game as BYU's starting quarterback passing Heisman Trophy winner Ty Detmer to become the school's all-time leader in career victories. Hall also passed John Beck to become the all-time Mountain West Conference leader in total passing yards and total offense.
During the Utes' 38-7 win Saturday over San Diego State, receiver David Reed became just the sixth player in Utah history to compile more than 1,000 receiving yards in a season. The Utes have won 17 straight home games, which is the third longest streak in the nation. They also completed the school's first set of back-to-back unbeaten home seasons since 1947-48.
Continuing Saturday- the Utah Jazz continued their historic dominance of the Detroit Pistons. They needed overtime, but they won their 9th straight games against the Pistons and 7th straight in EnergySolutions Arena.
Then the weekend was capped off Sunday night when Real Salt Lake stunned the L.A. Galaxy to win the MLS Cup and gave the state of Utah its first major professional sports championship since the Utah Stars won the ABA title in 1971.
The night was supposed to belong to David Beckham and Landon Donovan, the biggest stars in MLS. Instead, it was the underdog RSL that captured the moment. A team that just four weeks ago wasn't even sure if it would make the postseason after finishing the regular season with a losing record.
They struggled to win on the road all season, but managed to eliminate the defending Cup champion Columbus on the road. They did it again a week later in Chicago, stunning the Fire with penalty kicks to win the Eastern Conference championship.

On Sunday they were huge underdogs, but seized the moment in dramatic fashion. RSL once again found itself in a penalty kick shootout, which isn't a problem when you have Nick Rimando. The RSL keeper stopped two Galaxy kicks before defender Robbie Russell buried the game winner in the 7th round of penalty kicks to give Real Salt Lake its first MLS Cup in just its fifth year of existence.
It was a remarkable way for this team to complete one of the most remarkable postseason runs in U.S. sports history.
Now, after an incredible weekend, our attention turns to rivalry week. Saturday's battle between two 9-2 teams could be the most evenly matched rivalry game this decade and could provide BYU and Utah fans with another epic battle in this storied rivalry.
It's a good time to be a sports fan in the state of Utah. Years from now when we look back at this period of time, we may consider it the most impressive run in Utah sports history.
E-mail: jjensen@ksl.com
×
Most recent Utah stories