Estimated read time: 2-3 minutes
This archived news story is available only for your personal, non-commercial use. Information in the story may be outdated or superseded by additional information. Reading or replaying the story in its archived form does not constitute a republication of the story.
SALT LAKE CITY -- When an earthquake and tsunami struck Samoa at the end of September, one man who was helping to load humanitarian supplies onto a plane knew some of the people who would be receiving them -- his family.
Samoans say the 8.3 magnitude earthquake and four tsunami waves that followed on Sept. 29 brought the worst destruction in their islands' history.
Two-hundred people were killed, many injured and hundreds of families lost everything -- violently swept away.
Days later, a crew quickly loaded more than 130,000 pounds of supplies onto a cargo plane. One of the workers had learned hours before of the loss of family members.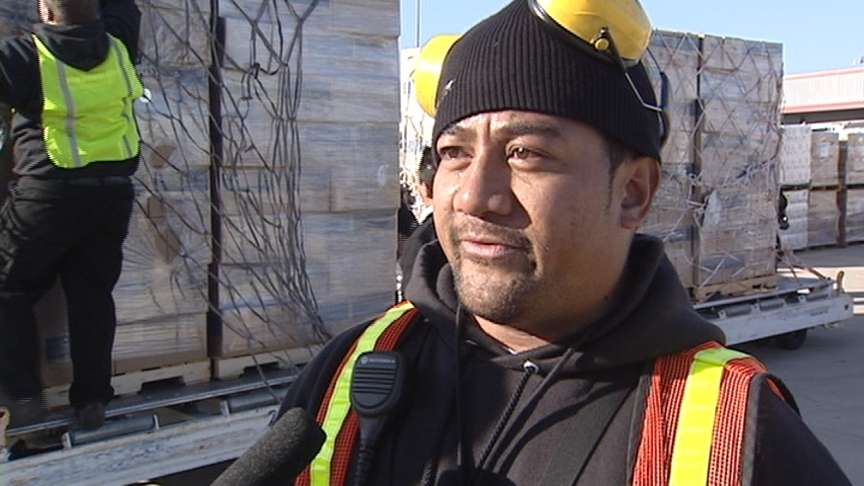 "My sister told me my family lost eight of them," said Tasi Toala.
Eight family members gone. Tasi Toala put much needed food, clothing, mosquito nets, bedding and water containers onto that plane.
The Church of Jesus Christ of Latter-day Saints and Islamic Relief Worldwide joined forces.
"They stepped forward first, among many organizations and said, 'we'd like to help.' And we were pleased to partner with them," says Elder James J. Hamula of the First Quorum of the Seventy and second counselor in the Pacific Area Presidency.
Mustafa Mahbub works with Islamic Relief. "There's a great need. Disaster has taken a toll on many people, destroying many towns in the area as well," he says.
The supplies came from the Church's welfare and humanitarian store houses.
Tasi Toala is grateful.
"I wish I'm over there right now, picking up some stuff and help some families, but it makes me feel much better now that I'm helping, sending all this stuff, for my people," he said.
That plane, loaded with literally tons of humanitarian supplies, left Salt Lake International around noon on Oct. 6 and arrived in Samoa that same night.
From the airport, the boxes were transferred to trucks. Workers believe the donations will alleviate some of the suffering.
Nothing remains of what was once a neighborhood. All the villagers have moved to higher ground.
The flowers under a tent mark the place where five members of one family -- two women and three children -- are buried. The survivors mourn, still in shock.
Tasi Toala's sister lost her home and is grateful for her brother's efforts.
"He wants to help us, and I think he wants to pray for us," she said.
Eventually, they say, they will return. They believe they were spared for a reason.
Elder James Hamula told KSL that Polynesians in several countries donated to that effort and continue to donate to help the Samoan people recover.
E-mail: cmikita@ksl.com
×
Related stories
Most recent Utah stories