Estimated read time: 2-3 minutes
This archived news story is available only for your personal, non-commercial use. Information in the story may be outdated or superseded by additional information. Reading or replaying the story in its archived form does not constitute a republication of the story.
MURRAY -- Two first-grade classes in Murray are doing half of their learning in Spanish. It's not an English as a Second Language program, but a dual-immersion program. It gives students the opportunity to learn a second language to get them ahead in the future.
Horizon Elementary School is the first to implement it in Murray, and the kids are quickly getting the hang of it. Just two months ago most of these students couldn't speak a word of Spanish. Now they're learning how to sing in Spanish, write and talk!
Horizon Elementary School Principal Martha Kupferschmidt says, "These students, by the time they finish 6th grade, will be bilingual and bi-literate and bi-cultural."
First-grader Kaleb says, "I like my teacher, and I like Spanish, so I would rather speak Spanish sometimes."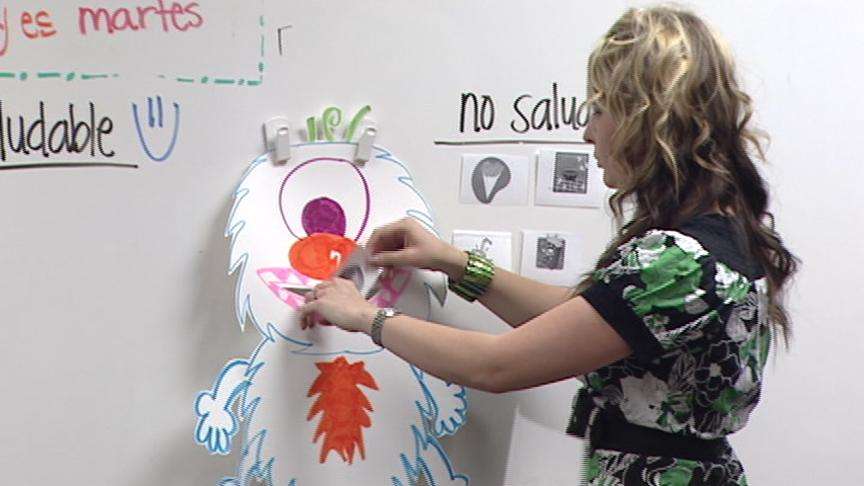 Like Kaleb, many of the students in class have Spanish-speaking family members, but not all. Tristin West teaches both of the dual immersion first-grade classes. She says, "The majority [of students] have no Spanish ties at all."
At the beginning of the year, parents had the option to sign their kids up for it, or not. The parents of over 50 students liked the idea of their kids spending half their day learning in English and the other half Spanish.
West says, "Their brains are like sponges at this age. The research shows seven and under is when they are able to learn a language and soak it all in."
Mrs. West speaks no English in her class; everything she teaches, like math, science and writing, is done in Spanish.
And after just over 50 days of class, the kids are getting it. She says, "They understand everything at this point. Every single student can follow directions, and many can answer a question in Spanish."
Elena's says she really likes learning Spanish and, even as a first-grader, recognizes learning two languages will put her at the head of the class.
She says, "I want to be more smart so I can talk Spanish and English."
Horizon Elementary School received a grant to pay for supplies for the class -- since they had to be all in Spanish -- and for training for Mrs. West.
E-mail: abutterfield@ksl.com
×
Most recent Utah stories