Estimated read time: 4-5 minutes
This archived news story is available only for your personal, non-commercial use. Information in the story may be outdated or superseded by additional information. Reading or replaying the story in its archived form does not constitute a republication of the story.
DUCHESNE COUNTY -- A Utah couple facing charges of tax evasion is now being accused of ripping off customers.
The couple owns Utah Mini Ranches in Duchesne County. It's a subdivision near Duchesne that sells cabins for weekend getaways and retirement.
Frank Joe Steed, 63, and his wife, 60-year old Joan A. Steed, have been charged with five counts each of fraud; all are second degree felonies.
The charges were filed in Utah's 8th District Court Tuesday. For a couple living in Murray, though, the charges may be a little too late to save their home.
"Our dream was shattered there," said Vickie Adamson.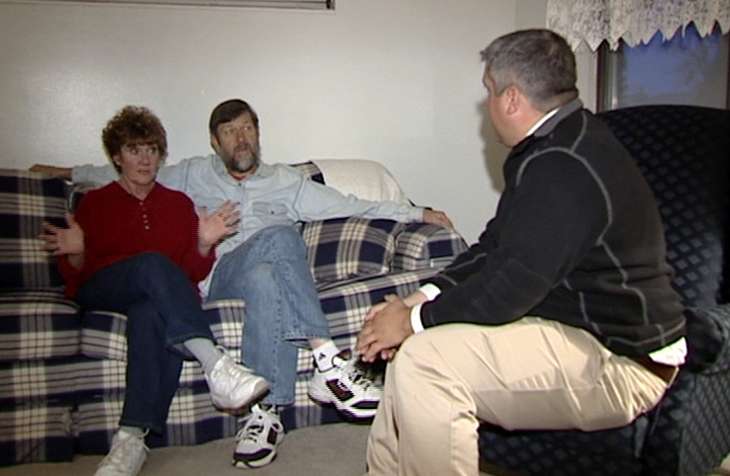 She and her husband, Scott, were excited when they first heard about Utah Mini Ranches in Duchesne County. Now they say it's been nothing but a two-year nightmare.
"I've told them and I've told them all I wanted is my money back," said Vickie Adamson. "We're not looking to get a huge million dollar house. We just want our money back."
The Adamsons paid the Steeds $35,000 for property to build their retirement cabin on in September of 2007.
"It was going to be a place to bring our children and our grandchildren for Thanksgiving dinners, Christmas dinners, things like that," Adamson said.
However, the Adamsons say they soon noticed something was wrong. Every time they visited the property, the trees weren't being cleared. There was no access road bring built. And worst of all, they couldn't get the Steeds to call them back with answers to their many questions.
"Do you know they even charged us with $150 homeowner's fees?" Adamson said. "And I sent it. I was really happy I owned something and was willing to pay for it."
When nothing happened for almost a year, the Adamsons decided to put the land up for sale and figured they would build their retirement cabin somewhere else.
They called a real estate agent to put the land on the market, but a day later agent called them back with bad news.
"It's not yours. It's not even a legal piece of ... you don't own anything," Vickie Adamson remembers the real estate agent saying to her.
The agent said Utah Mini Ranches never got a permit to build on the land. There were also concerns about getting water and electricity to the property.
The Adamsons kept getting promises from the Steeds that everything was OK, but after several un-returned phone calls and broken promises, the Adamsons spoke to state investigators with the Utah Department of Commerce.
"Some of those promises have come into question, and that's where we are now, is trying to find out what happened," said Francine Giani, executive director with the Utah Department of Commerce.
"We have an administrative citation we filed in July," Giani continued. "The violations are violations of the consumer sales practices act, which is basically misrepresentation from the business to the consumer."
In court documents filed by Duchesne County Deputy Attorney Grant Charles, it's written the Steeds are being charged that they "intentionally, knowingly or recklessly devised a scheme to defraud another or to obtain from another money or anything of value by means of false or fraudulent pretenses, representations, promises or material omissions."
The Adamsons are one of five families named in the court documents as victims of this case.
These charges are on top of 18 felonies the Steeds are already facing. In October of 2008, they were charged with tax evasion for failing to pay the state $3.1 million over three years. That case is still working its way through the court system.
The Adamsons are worried they'll never get their money back. They're selling their home because they can't afford the second mortgage they took out on it to pay for the cabin land they were planning on moving to.
"After all these years, 40 years of living here and of paying and everything, it's going to be a mobile home park, and it can't be a new one," Adamson said. "We can't buy a small condo or another home. Our dreams were shattered."
KSL called Utah Mini Ranches, Joe and Joan Steed, and their attorney for comment. Those messages have not yet been returned.
The Duchesne County attorney also wouldn't comment, saying the case is still pending.
E-mail: acabrero@ksl.com
×
Related links
Most recent Utah stories