Estimated read time: 2-3 minutes
This archived news story is available only for your personal, non-commercial use. Information in the story may be outdated or superseded by additional information. Reading or replaying the story in its archived form does not constitute a republication of the story.
John Hollenhorst ReportingNatasha Adkins, Neighbor: "With all the traffic, I assumed something was going on. But I didn't know exactly what."
When cops entered a home in Tooele, they expected to find just a few baggies of drugs. They didn't expect to find what this man had set up throughout the house.
Mike Hansen, Commander, Tooele County Drug Task Force: "I think we were all shocked with what we found in the house."
Following that bust last week, detectives in Tooele realized they may have discovered the biggest and most elaborate illegal mushroom operation ever in Utah history. They're concerned because it was just a short walk from two schools.
The mushrooms, marijuana, and equipment seized in the raid are now here in the Tooele Police evidence room. Investigators say the indoor agricultural operation they discovered was surprising and alarming.
For a long time neighbors suspected something was up in the house behind the iron fence.
Natasha Adkins, Neighbor: "There's been a lot of traffic late at night, especially late at night, cars coming and going, people coming and going."
Police got an anonymous phone tip two months ago, but even after a lengthy investigation, they were surprised when they finally raided the house.
Sgt. Todd Hewitt, Tooele County Drug Task Force: "Yeah, it was alarming, what we found."
In tubs and pots and bottles and boxes, they found a marijuana- and mushroom-growing operation spread throughout the house.
Sgt. Todd Hewitt, Tooele County Drug Task Force: "Every room, every inch of the house, seemed to contain some aspect of that. There was very little area that wasn't covered with evidence."
The mushrooms are a species that naturally contain psilocybin, a powerful hallucinogenic chemical.
Sgt. Todd Hewitt: "It causes the hallucinations similar to what you would expect, I would imagine, with L.S.D."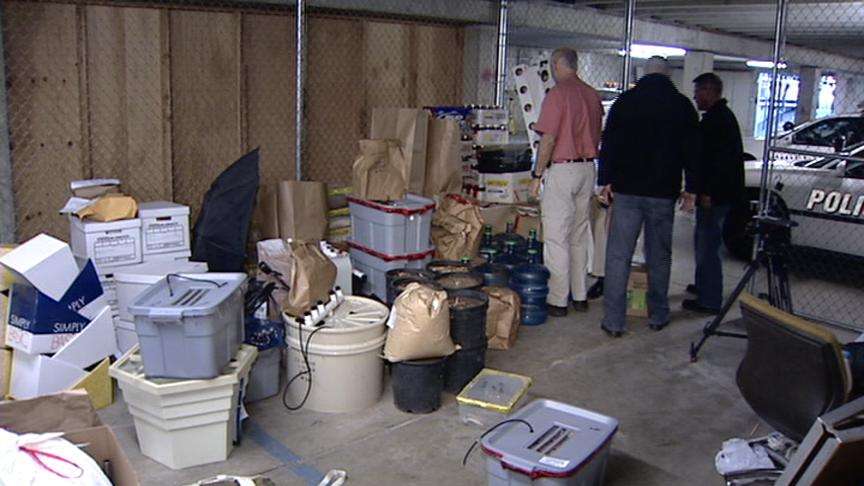 There were elaborate homemade holders for pots. They were set up to deliver bottled spring water. Marijuana plants and mushrooms were irrigated, heated, ventilated, and dehydrated.
Thirty-year-old Benito Cordova was booked into the Tooele County Jail.
Mike Hansen, Commander, Tooele County Drug Task Force: "I believe he was earning his living from it."
Will Adkins, Neighbor: "I didn't ever notice that he ever went to work. So I kind of had my suspicions in that way."
Investigators believe the operation was so big that the market for the mushrooms was larger than just the local area. But it is the local area they're most concerned about.
Mike Hansen: "We're very worried, because it was within a thousand feet of both Tooele High School and Tooele Junior High School."
Natasha Adkins: "I didn't see very many younger kids going in there. It was mostly people that looked in their twenties."
Oddly enough, you can go to the internet and order a starter-kit for an illegal mushroom operation. Investigators tell us the mushroom spores themselves are not illegal, but when you start cultivating them, you cross the line into criminal territory.
×
Most recent Utah stories