Estimated read time: 2-3 minutes
This archived news story is available only for your personal, non-commercial use. Information in the story may be outdated or superseded by additional information. Reading or replaying the story in its archived form does not constitute a republication of the story.
IRON COUNTY -- Four people are under arrest and three children have been placed in state custody after a drug bust along Interstate 15 in Iron County.
Sheriff's deputies say the children were being used as decoys to make it look like a family cross-country trip to see a sick relative.
Deputy Aaron Pallesen says it started with a traffic stop for a lane violation around 11:15 a.m. Tuesday. As the deputy at the scene approached, he reported he could smell marijuana. He asked where the group was going, and when the answers didn't add up, he intensified his questioning. Investigators say one of the men in the car admitted to cocaine and a gun being hidden in the car.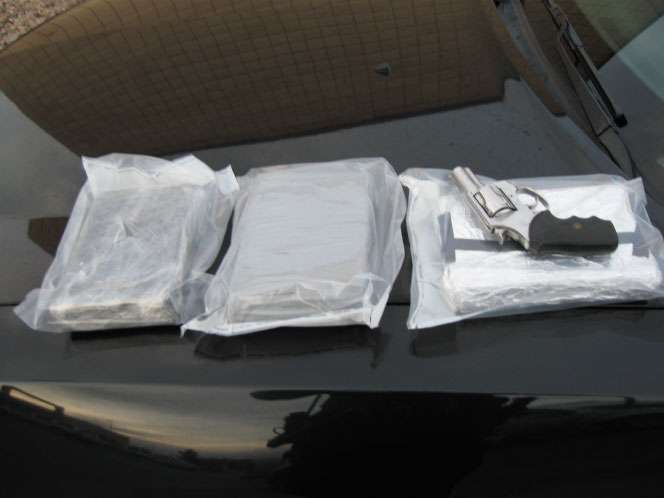 Deputies say a total of 9 pounds of cocaine was found in the center console -- carrying a street value of roughly $2 million after being mixed and sold.
Pallesen says it's becoming a little more common to see decoys.
"Some people have that mentality that, 'Gosh if there's so much in here, maybe they won't want to take the effort to go through and find it,'" Pallesen said in a phone interview with KSL Newsradio. "Just because you have a large amount of people in your vehicle or you're trying to cover up, law enforcement is going to do its job to get to the bottom of it."
Investigators say marijuana was also found hidden in the soles of some of the suspects' shoes.
Deputies say one of the children was 2 years old and was the child of two of the adults in the car. The 11-year-old and 13-year-old children's parents were not in the car, although investigators say one of the men in the car was dating their mother.
The father and the mother of the toddler, along with the two other men in the car, were booked on child abuse and neglect, suspicion of possession of cocaine, possession of drug paraphernalia with intent to distribute, possession of a firearm by a restricted person and on a violation of the drug stamp tax act.
Investigators say the group was on its way from California to Warren, Ohio, to bring the drugs back to their hometown.
E-mail: aadams@ksl.com
×
Most recent Utah stories