Estimated read time: 8-9 minutes

This archived news story is available only for your personal, non-commercial use. Information in the story may be outdated or superseded by additional information. Reading or replaying the story in its archived form does not constitute a republication of the story.

SALT LAKE CITY -- It has been an interesting year for the University of Utah football team to say the least. A supposed rebuilding year has brought them all the way to a 7-1 record, bowl eligible and 14th in the BCS rankings. The most certain thing happening with the team is - change.

Just when the Utes should be hitting their stride, they change their quarterback and their offensive play-caller. Offensive Coordinator Dave Schramm has made the move to the field while Aaron Roderick moved up to the booth to call plays. When asked about the changes, head coach Kyle Whittingham said, "We are trying to find the right combination so we can play up to our potential."

It takes some serious guts to make wholesale changes during a season in which team goals are still very much attainable. First and foremost, a Mountain West Conference Championship is in reach, albeit the most difficult games have yet to be played. TCU is clearly the team in the conference to beat and that showdown is just a week away. Then there is always the game with that team down south. For the Utes, they have a whole season left to play.

Did the offense need a change?
I think it is time to look at the numbers when it comes to Schramm and Cain. Jordan Wynn had a very poised and effective half of football leading the Utes to 19 points, but that is all we have to go off of for him. His drives were being converted into points. That was the reason for the change. At Monday's press conference, Coach Whittingham said the offense just wasn't scoring and Wynn could have been the spark that the team needed in the offensive huddle.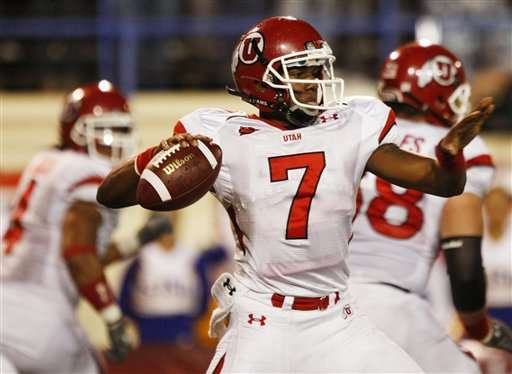 Terrance Cain is ranked tied for the 48th quarterback in the country. To give some perspective (and this is purely statistical) the best quarterback in the country is Case Keenum of Houston. Florida State's QB Christian Ponder is ranked 5th, Texas's Colt McCoy 7th, Jimmy Clausen of Notre Dame 14th, Max Hall 17th, Landry Jones of Oklahoma 23rd, Jake Locker of Washington 29th, UNLV's Omar Clayton 33rd, Kellen Moore of Boise 34th, Diondre Borel of Utah State 40th, USC's Matt Barkley 52nd, and Tim Tebow is ranked 97th. Cain is 137-214 with 11 TDs and 5 INTs and 1,624 yards on the year. He completed the ball at a 64% rate. Honestly, not so bad, so what is the glaring statistic? The Utes rank 56th in scoring offense, which is mediocre.

What is the cause of that, well, I dug a little deeper and from what I've found, Utah's drives are simply stalling. They are converting just 39% (44-113) of their 3rd and 4th downs into first downs. Almost a third of Utah's drives are ending in three and outs. I believe that is the glaring statistic when it comes to points being scored.

Jordan Wynn was not much better in trying to convert 3rd downs. In his 1st drive, he did have one conversion that led to a field goal. His 2nd drive also led to a field goal. Wynn's 3rd drive was a 3 and out. His 4th drive was the touchdown pass to Jereme Brooks that came on a 3rd down pass play that went for 22 yards. 5th drive, 3 and out, 6th drive, turnover led to a Eddie Wide TD and Wynn failed to complete a pass for a 2-point conversion. Wynn finished 9-14 with 82 yards and one touchdown pass. But, there was a total of 19 points scored while he was at the helm. It will be interesting to see if 1) Wynn gets the start, and 2) what he does with the start. He looked very poised and also looked comfortable going through his progression. He actually looked at more than one receiver (refreshing).

Defensively the Utes have become elite again this year. They have simply kept the Utes in the game and have even put a bundle of points up on the board. I believe that is all I need to say about that.

About the Lobos
As far as the New Mexico Lobos are concerned, they are already looking forward to basketball season. The Lobos have been a perennial 4th place team in the Mountain West Conference in years past. That is not great, but at least they were competitive. Rocky Long had the team ready every week. They were physical, and every once in a while they would be just good enough to beat one of the top 3 teams in the conference. The unrealistic fans in Albuquerque probably wish they still had Long as the Head Coach. Nationally the Lobos rank 109th in total offense, 114th in scoring offense, 98th in total defense, 102nd in turnover margin, and it just seems to get worse from there.

\#14 Utah (7-1)

New Mexico (0-8)

Edge

Passing Offense

\#64 NCAA 214.3 YPG

\#67 NCAA 212.3 YPG

EVEN

Rushing Offense

\#38 NCAA 178.9 YPG

\#109 NCAA 94.1 YPG

![](http://www.ksl.com/images/team_logo/ncaa/utah.png)

Total Offense

\#48 NCAA 393.1 YPG

\#109 NCAA 306.4 YPG

![](http://www.ksl.com/images/team_logo/ncaa/utah.png)

Scoring Offense

\#56 NCAA 27.1 PPG

\#114 NCAA 15.5 PPG

![](http://www.ksl.com/images/team_logo/ncaa/utah.png)

Rush Defense

\#57 NCAA 135.8 YPG

\#84 NCAA 161.1 YPG

![](http://www.ksl.com/images/team_logo/ncaa/utah.png)

Pass Defense

\#7 NCAA 159.3 YPG

\#105 NCAA 252.4 YPG

![](http://www.ksl.com/images/team_logo/ncaa/utah.png)

Total Defense

\#17 NCAA 295 YPG

\#98 NCAA 413.5 YPG

![](http://www.ksl.com/images/team_logo/ncaa/utah.png)

Scoring Defense

\#17 NCAA 16.8 PPG

\#113 NCAA 35.5 PPG

![](http://www.ksl.com/images/team_logo/ncaa/utah.png)

Turnover Margin

\#48 NCAA +.25 TPG

\#102 NCAA -.88 TPG

![](http://www.ksl.com/images/team_logo/ncaa/utah.png)

**What to expect** This week is all about getting people ready to play against TCU next week down in Fort Worth. I expect the Utes to explode and have this game over quickly. If Jordan Wynn starts, look for him to get most the snaps, even in a blowout scenario just to get the extra reps. For the Utes, this season is about winning a conference championship. Rhey are still very much in the hunt even though the wins have not been gorgeous. Utah Head Coach Kyle Whittingham knows it, but he also knows, "It is all about getting the win, and these guys have figured out how to do it." Truer words were never spoken. This Utah team just wins. It is ugly more times than not, but nonetheless a win is a win.

The Utes are winning, they know how to win, and they don't care how they win as long as they win. That is the mark of a great program and a program that is on the rise.

Kickoff is scheduled for 4 p.m. from Rice-Eccles Stadium in Salt Lake City. Follow the game on KSL.com by reading the live Game Blog beginning at 3:30 p.m.

×
Most recent Utah stories