Estimated read time: 2-3 minutes
This archived news story is available only for your personal, non-commercial use. Information in the story may be outdated or superseded by additional information. Reading or replaying the story in its archived form does not constitute a republication of the story.
PHOENIX -- A plane headed to Salt Lake City made an emergency landing in Phoenix Monday after hitting a flock of birds. The plane hit the birds shortly after takeoff, then circled back to the Phoenix airport.
No one on Delta Flight 1232 was injured, but plenty of people were shaken up. Their plane took off at 8:40 a.m. and hit several birds about 20 minutes later.
"It was a very loud crack even with my headphones on. So yeah, it was pretty loud," said passenger Daniel Suarez.
He was sitting in the middle of the aircraft when it happened. A few rows behind him sat Tina and David Hermansen. They didn't know anything had happened until the captain came on the intercom.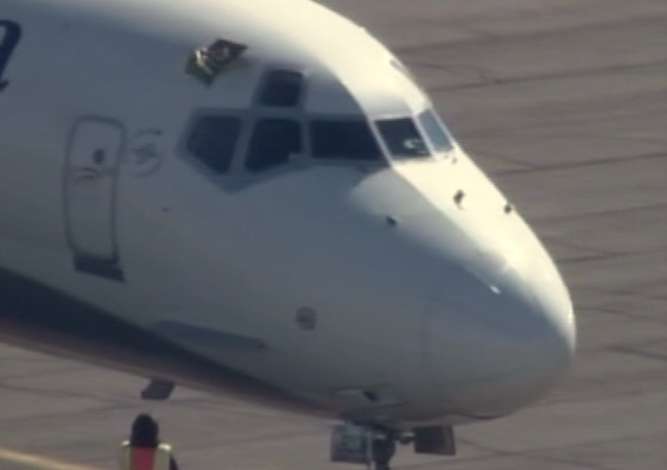 "So, all of a sudden, the pilot just calmly says, 'We've hit some birds. Nothing to worry about. We're going to turn and go back to Phoenix,'" Tina said.
The plane circled back around, carrying five crew members and 127 passengers. Some of whom panicked, remembering it was a bird strike that forced a plane to land in New York's Hudson River earlier this year.
"I kept the gal next to me pretty calm, because she was pretty hysterical, getting all teary-eyed," Suarez said. "I was kind of like, 'You're OK. Things will be OK.'"
Upon arrival in Phoenix, passengers learned what had happened.
"Whatever struck the plane made a hole above the pilot's window about the size of a small dinner plate," said passenger David Hermansen.
A Delta spokesperson told KSL News birds struck the aircraft three times; once on the window and twice on the underside near the wing.
The Hermansens were just thankful to have a great crew that got them back safely.
"The pilot was just so calm and nice about it. I didn't even feel worried," Tina Hermansen said.
Delta officials say the damage was only done to the skin of the plane. There was no loss of cabin pressure, but several passengers felt that way because the plane descended so quickly.
------
Story compiled with contributions from Nicole Gonzales and Cleon Wall.
×
Most recent Utah stories