Estimated read time: 2-3 minutes
This archived news story is available only for your personal, non-commercial use. Information in the story may be outdated or superseded by additional information. Reading or replaying the story in its archived form does not constitute a republication of the story.
PROVO -- Six BYU students are recovering after a very close call with carbon monoxide.
The six roommates were all smiles Friday, while inside of a hyperbaric chamber for their third round of treatments at the hospital. Thursday, however, they were all seriously ill from carbon monoxide poisoning.
"I woke up with a really bad headache. I figured it was because I didn't get enough sleep," Ashley Dean said.
Her roommate, Rebekah Demordaunt, said, "[I] woke up, felt like I needed to go back to bed, had a horrible headache. I was really dizzy, got up, went to the bathroom, threw up, made my way to the couch, fell asleep; and the next thing I know, I'm waking up to fire trucks pulling up."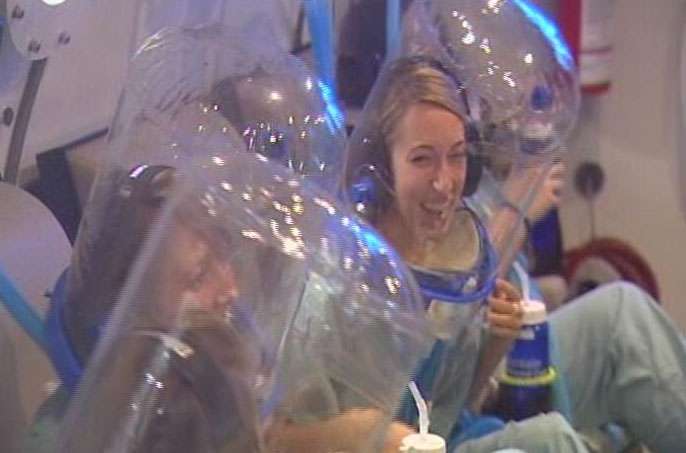 Firefighters arrived to help after another student went to the on-campus medical clinic. After hearing everyone at home was sick, an EMT there wisely called 911.
All of the girls who live in the house, even those who had left for the day, were found to have dangerous levels of carbon monoxide in their blood.
"They told me to get out to the ambulance. They checked us out and told me I needed to go to the emergency room because they couldn't determine what my carbon monoxide level was, so I needed to come here," Demordaunt said.
As the weather turns cold, doctors say people often forget about the dangers of what is an odorless, colorless and tasteless gas.
"I f everybody in the household becomes ill at the same time, think carbon monoxide before you think flu," said Dr. Marc Robins, with Utah Valley Regional Medical Center.
The symptoms can hit hard, and carbon monoxide can be fatal within minutes.
"Sudden headache, flu-like symptoms, nausea, weakness, dizziness," Robins explained.
Carbon monoxide leaks can come from faulty furnaces and fireplaces. However, doctors find people sometimes unknowingly put themselves in danger, for example: using a barbecue to heat up a garage, a shed or even a house.
Often, hospitals see construction workers in the emergency room who have been using either tools or space heaters without adequate ventilation.
"We see a lot of construction workers who will use gas-power tools in a sealed-off, enclosed space and can be overcome quite rapidly," Robins said.
Doctors and firefighters say a simple carbon monoxide detector is the best way to protect yourself. The BYU students had one at home but it wasn't plugged in. It is now, and they have bought more for the home.
E-mail: spenrod@ksl.com
×
Most recent Utah stories