Estimated read time: 4-5 minutes
This archived news story is available only for your personal, non-commercial use. Information in the story may be outdated or superseded by additional information. Reading or replaying the story in its archived form does not constitute a republication of the story.
SALT LAKE CITY -- In central and southern Utah, clear roads quickly turned to slush and ice for Wednesday morning's commute.
In some areas residents reported 3-5 inches of snow, which kept troopers busy from Millard through Iron County.
Two of the accidents in southern Utah involved law enforcement. As a Washington County sheriff's deputy was assisting in a weather-related crash, a motorist slammed into the back of his vehicle. The deputy was standing outside the car at the time and was not injured. In Iron County a sheriff's deputy was involved in a similar incident and was also OK.
"Just be careful when you're driving, slow down, especially as your approaching accident scenes, and move over as much as you can," Roden said.
Two wrecks on southbound I-15 created major delays near Fillmore and the I-70 junction, and closed the interstate for a time near Parowan Wednesday morning. Major congestion is still a problem in that area.
The Utah Department of Transportation said I-15 was reduced to one lane at milepost 84 in Iron County due to a wreck.
The other crash, involving two semi trucks that jackknifed, created major delays between milepost 120 and milepost 137 in Millard and Beaver counties.
"They've said they've started to see things level out a little bit and not see so many accidents, but they've said the road conditions are slick in that area, and so they've seen a pretty steady stream of crashes so far into the morning hours," UHP's Cameron Roden said.
Troopers are warning drivers throughout the state to be aware of black ice. They say as the roads continue to clear up, drivers tend to speed up.
"People think the roads are fairly clear and dry, and they get going too fast and still hit these patches of ice and tend to lose control and cause accidents still," Roden said.
To the north, it was a busy night for emergency crews as cold weather caused trouble on some roads in Salt Lake and Summit counties.
6 wrecks in 3 hours
Authorities responded to six accidents in the space of three hours on the southern end of Bangerter Highway. Those crashes happened between 9 p.m. and midnight, all on the stretch of Bangerter Highway between 13400 South and Interstate 15.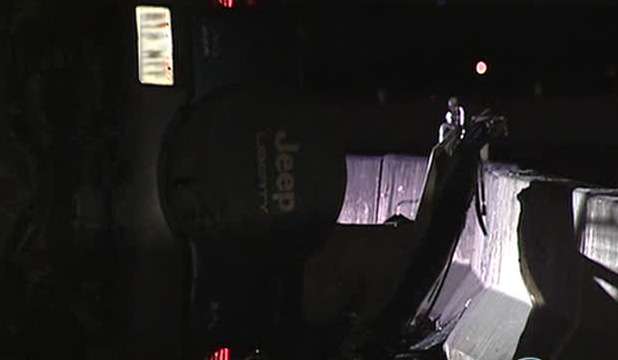 The most serious wreck was an SUV that lost control on a patch of ice and hit the center embankment. The driver of a pickup truck following the SUV wasn't able to stop in time and slammed into the SUV, causing it to roll.
The pickup driver wasn't hurt, but the driver of the SUV was taken to the hospital in serious condition.
Lt. Jason Johnson of the Salt Lake County Sheriff's Office said, "She was in serious condition, she was sitting up and talking to emergency personnel, so we're hopeful she's going to be OK."
He blamed speed, snow and cold. He said, "We have had a lot of snow come down earlier tonight. A lot of that melted off quickly, but the colder air and colder weather caused us some trouble out on Bangerter because of a lot of ice patches and ice spots."
Two more crashes in the same area resulted in a few more minor injures and a lot of debris in the road. The stretch between 2700 West and 13400 South eventually was shut down for a while as emergency crews cleaned up and salted the road.
The Utah Highway Patrol said there were 26 accidents Tuesday in Salt Lake County, with three minor injuries. In Utah County, there were four traffic accidents with one minor injury.
Car rolls into house
In Park City Tuesday night, a car rolled into a house.
Deputies responded to a crash in the 4000 block of Old Ranch Road to find a vehicle had rolled over an embankment and stopped after hitting a house.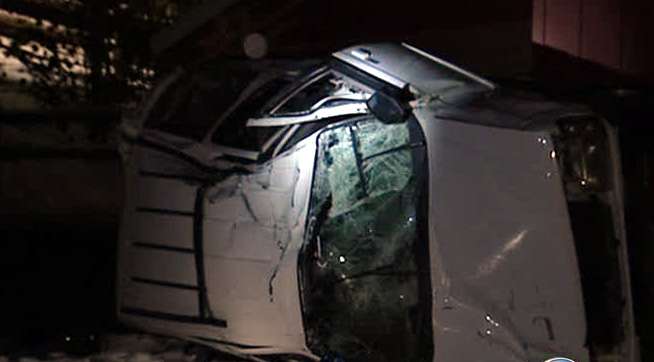 The passenger in the vehicle walked away from the crash, but the driver was taken to Intermountain Medical Center with minor injuries.
Deputies said the roads were extremely icy in the area, but they also said alcohol may have been a factor in the crash.
Crews used trucks to salt roads overnight to clear up icy patches.
Wind still a problem
One problem we will continue to see throughout the day is the wind. In some areas it continues to push snow drifts back onto the road, so drivers need to keep an eye out for that and be careful.
Interstate 80 from Lake Point to the Nevada state line is experiencing high cross winds. This is expected to last through 6 p.m. today.
And I-80 from Rock Springs to Laramie is also experiencing blowing snow with severe winds up to 70 mph. This is expected to last through Thursday.
------
Story compiled with information from Shara Park and Andrew Adams.
×
Photos
Related links
Most recent Utah stories