Estimated read time: 4-5 minutes
This archived news story is available only for your personal, non-commercial use. Information in the story may be outdated or superseded by additional information. Reading or replaying the story in its archived form does not constitute a republication of the story.
SALT LAKE COUNTY --Thousands of Utahns swamped clinics across the valley Saturday morning to get their hands on the H1N1 vaccine.
So many people showed up, the Salt Lake Valley Health Department said it ran out completely. Demand far exceeded supply, and a lot of people went home frustrated.
According to the health department, more than 7,000 injectable doses of the vaccine were administered by 1 p.m. All four of the clinics involved received 1,750 shots each, and those vaccines ran out long before the lines did.
Health department employees worked the lines with hand counters, letting people know who was getting in, who was a maybe and who was out.
"The interest, coupled with the fact that everyone knows the vaccine is arriving slowly -- much more slowly than the federal government anticipated -- causes that sense of urgency," said Gary Edwards, the director of the Salt Lake Valley Health Department.
People started arriving as early as Friday night to get into line -- bringing food, blankets and umbrellas. Some arrived around 6 a.m. -- an hour before the clinics opened -- only to learn they were too late.
Cindy Booth was one of those people. "We started clear back in a subdivision a little after 8:00 this morning and we've been waiting all the way until we got up here and they turn us away," she said.
Lack of security causes problems
The health department brought in one Salt Lake County Sheriff's deputy for each location to handle any problems that came up, but at the clinic in West Valley City that wasn't enough.
As more than 4,500 people lined up, the neighborhoods surrounding the Ellis R. Ship Public Health Center tuned into free-for-all parking lots.
"Out to the street it's packed. The cars don't fit, the people don't fit," said Adriana Figueroa, one of the many people in the middle of the chaos.
Around 7 a.m., call after call poured into the West Valley City Police Department about cars parked in red zones, in front of fire hydrants -- even trapping people in their own driveways.
"When my wife had to go on our own lawn to get out of our driveway, that's when it became a little ridiculous," said one resident.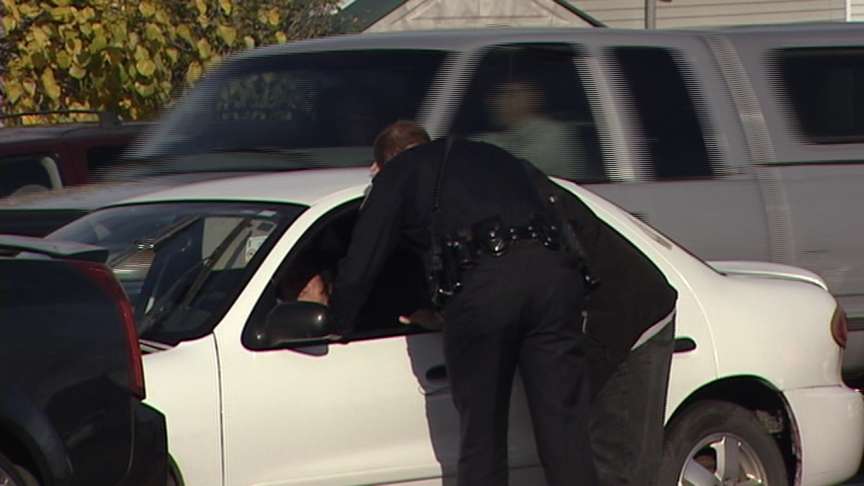 Lt. Bill Merritt with the West Valley City Police Department described the scene. "They had literally thousands of people lined up on 5600 West and into the residential neighborhoods to get their shots," he said.
Merritt said the West Valley Police Department was never informed about the clinic. He said as they arrived on scene, they only had five officers on for the day, and were unprepared to handle the crowd.
"There were so many violations that I saw in so many places it was ridiculous. I was afraid that if I was to stop my car, because I didn't have a place to park it, someone would run into the back of me," he said.
While that didn't happen to Merritt, it did happen to three other motorists. One resident also had a portion of his fence knocked over because of people jumping it to cut in line for the vaccine.
"It's kind of frustrating, but it's OK. I tried to be nice with the people," said Aldo Varela.
The Salt Lake Valley Health Department said it held Saturday's mass vaccination at its four clinics knowing there would be large crowds. However, because similar vaccination events had run smoothly in the past, they didn't anticipate there being a problem.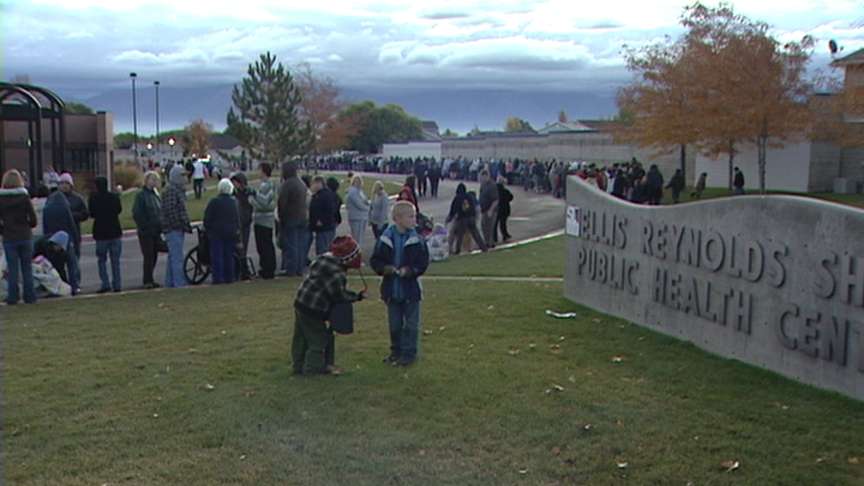 "The flow works good. We've practiced, we've planned mass clinics, and for the most part it was a pretty successful day," said Edwards.
The health department said it was still pleased with how the mass clinic went overall. Department officials said they didn't expect to begin vaccines again until November.
Until then, if you fall into one of the priority groups, they suggest you call private providers who received shipments of the vaccine this week.
Those priority groups include pregnant women, those who live with or care for kids under 6 months, health care workers, kids 6 months to 24-years-old and those under 64 with chronic medical conditions.
The Salt Lake Valley Health Department has administered roughly 26,000 doses of H1N1 vaccine since the first vaccinations began on Oct. 7.
Story compiled with contributions from Sarah Dallof and Shara Park.
×
Photos
Related links
Related stories
Most recent Utah stories