Estimated read time: 2-3 minutes
This archived news story is available only for your personal, non-commercial use. Information in the story may be outdated or superseded by additional information. Reading or replaying the story in its archived form does not constitute a republication of the story.
SALT LAKE CITY -- The meaning of consensus was up for debate on Utah's Capitol Hill Wednesday as two scientists squared off with opposing views on global warming.
"If we put 100 scientists in this room that study climate change, 97 of them would be along that wall, three of them would be along that wall. That's a consensus!"
The hearing highlighted two questions that the policy debate revolves around. First, are scientists so biased they can't reach reliable conclusions? Or, on the other hand, are Utah policy makers too biased to objectively look at the evidence?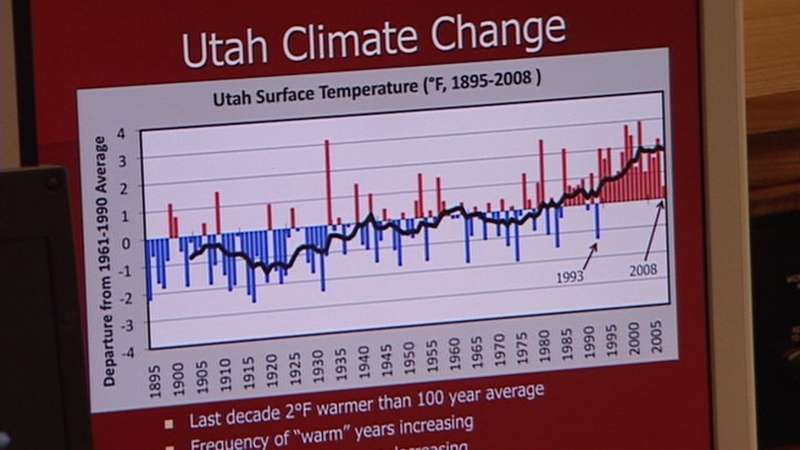 There are a couple of things everyone agrees on: Global warming is happening, and carbon dioxide is playing a role. Scientists overwhelmingly believe human activity is the most probable cause. However, lawmakers seem to embrace a minority scientific view -- that nature is to blame, not us.
Committee chairman Mike Noel, R-Kanab, said, "I'm painted many times in the news media as some kind of a country bumpkin who just fell off the turnip truck."
He felt compelled to open with a defense of his own scientific credentials: degrees in zoology and plant ecology. His critics portrayed previous hearings as stacked decks. For the first time, his committee heard from a mainstream climate scientist.
Dr. James Steenburgh, U of U chairman of atmospheric science, said, "There's tremendous agreement on the cause of global warming in the science communities today."
Dr. Steenburgh said 97.4 percent of active climate scientists believe human activity is a significant factor.
"The reason for this agreement is the preponderance of evidence," he said.
Balancing that, the committee heard a minority voice, atmospheric expert Roy Spencer.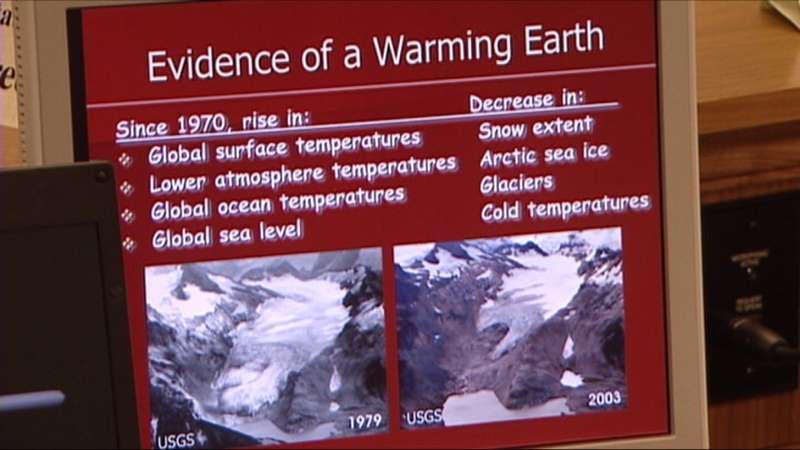 "There is evidence out there that Mother Nature by herself causes climate change," he said.
Spencer says his own work on declining cloud cover suggests that mainstream scientists overlook or ignore evidence.
He says, "There is no such thing as unbiased research in this field. A lot of people's careers now depend on the threat of man-made global warming."
One witness chided the committee for making a 97-3 split look like a 50-50 proposition. But another suggested the 97 percent are in cahoots with politicians.
Bob Ferguson, with the Science & Public Policy Institute, said, "And their whole purpose is to expand the bureaucracies and raise taxes."
That fed the lawmakers' instinct not to rush into legislation that could hurt traditional energy.
"I don't want to cost people jobs in Utah," Rep. Noel said.
Rep. Christopher Herrod, R-Provo, said, "One of my heroes is Vaclav Klaus, who has warned us that global warming is the new religion to replace communism."
Chairman Noel even suggested that more greenhouse gases could be good because carbon dioxide promotes crop growth. A large group of prominent physicians is planning a news conference in Salt Lake for Thursday. Their message is that global warming is the greatest threat to human health in the 21st century.
E-mail: hollenhorst@ksl.com
×
Most recent Utah stories