Estimated read time: 3-4 minutes
This archived news story is available only for your personal, non-commercial use. Information in the story may be outdated or superseded by additional information. Reading or replaying the story in its archived form does not constitute a republication of the story.
PROVO -- Unemployment in Utah rose again last month, and that surely contributed to the crowd that turned out Monday for a chance at a job at a burger joint.
The popular In-N-Out chain is opening Utah branches, and hundreds of people showed up at the Provo SpringHill Suites Marriott to apply for one of 150 positions at the new Orem and Draper locations.
Those applying for a position gave several of reasons why they wanted to work for the fast-food chain. The No. 1 reason is a competitive starting wage.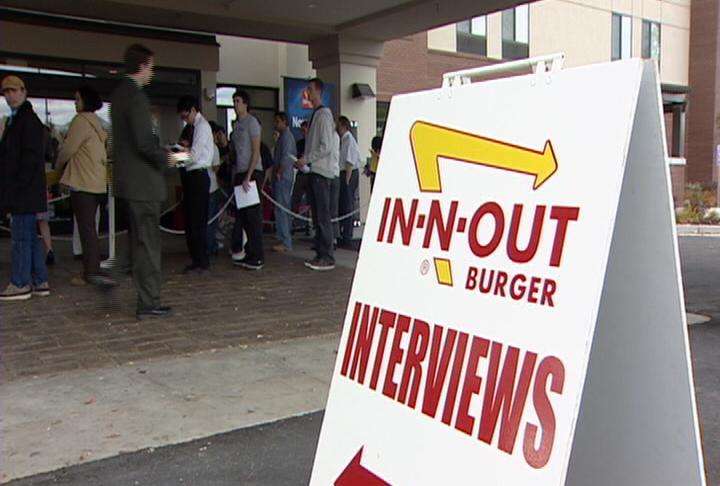 One applicant, Jordan McAllister, said, "When I got here, the line went all the way around the building. It was kind of interesting."

Despite the large turn-out, McAllister was confident.

"I felt like my interview went pretty well. I got to be realistic and look at the amount of people here, but I felt good about it," he said.

Another applicant, Lori Gardner, said flipping burgers might not be her first choice, but she'd be happy with the job.

"It's hard to find a job right now. A lot of places aren't hiring, so you just have to do what you have to do," Gardner said.

In-N-Out starts its employees off at $10 an hour. The competitive wage had one woman waiting in line for over an hour.

**History of In-N-Out Burger**![](http://media.bonnint.net/slc/1511/151138/15113857.jpg)

In 1948, the first In-N-Out Burger was founded by Harry and Esther Snyder in Baldwin Park, California. For the next several decades, In-N-Out grew slowly throughout Southern California, and in 1992 opened its first chain outside Southern California in Las Vegas. In-N-Out subsequently migrated into Northern California and in 2000 moved into Arizona and Utah in 2008 (Washington). In-N-Out has never franchised, and plans to remain privately owned. The menu- burgers, fries and drinks- is still the same basic menu since 1948. Everything is still made fresh to order. There are no microwaves or freezers. Its slogan is, "quality you can taste."

"I've been there before. It's clean, and it tastes really good. And 10 bucks an hour sounded awesome," said Miriam Harper. In-N-Out executives believe the hourly wage is what attracts a lot of applicants--that, coupled with the state's unemployment rate of just over 6 percent.

"I think people really want to work for In-N-Out Burger, but I think if you throw the economics into it also, it probably helps the process a little bit," said Raymond Maldonado, regional manager for In-N-Out Burger.

In-N-Out executives said the chain's new locations are ideally located for shipping in fresh ingredients. They said the company prides itself on the quality of its food, and the customers like it too.

"The response has just been very overwhelming and welcoming. We feel very excited to be here," said divisional manager Kristi Calmy.

Open interviews for the Draper and Orem locations continue through Tuesday. Interviews for the American Fork location will be held the week before Thanksgiving.

The Orem location is expected to open sometime in November. No word yet on when the Draper and American Fork locations will open.

------

Story compiled with contributions form Anne Forester and Randall Jeppesen.

×
Most recent Utah stories