Estimated read time: 2-3 minutes
This archived news story is available only for your personal, non-commercial use. Information in the story may be outdated or superseded by additional information. Reading or replaying the story in its archived form does not constitute a republication of the story.
Sammy Linebaugh ReportingSome say it has the purest acoustics of any concert venue in the world and it's right here in Utah. "The Colorado River's "Grotto", as it's called, is the centerpiece of the Moab Music Festival.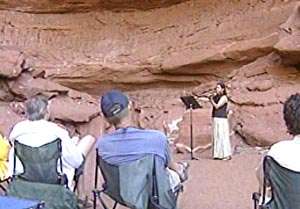 Brendan O'Shea, Guitar Musician: "I'm from the west of Ireland, and I am psyched to be in Moab."
Paul Woodiel, Fiddle Player: "I play in Carnegie Hall regularly, but I'd rather play here than anywhere else in the world."
These musicians -- considered among the best chamber artists around the globe -- have come in search of that elusive nexus of Mother Nature, man, and music.
Everything for the concert, from the stands to the instruments has been brought in by speedboat. The musicians have to carry all their own instruments about 50 yards up the riverbank. The grotto was created by centuries of spring flooding along the Colorado River. The musicians use words like crisp, golden and perfect to describe the acoustics there."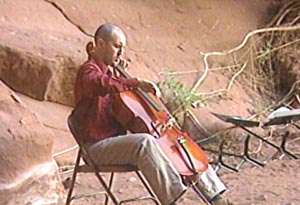 Brendan O'Shea: "There are all kinds of shapes and angles going on so the sound has room to roam, you know?"
Leslie Tompkins, Artistic Director: "It blooms in the space, so when it reaches the audience it is fully resonating."
Paul Woodiel: "You can play more softly here than you can anywhere, any other stage and touch your audience. To be outside and have no competition for sound is what makes this place an incredible listening experience."
Tim Fain, Violinist, New York: "I want to record here, I want to do a video here."
Martha Fralick, Denver, Co., Spectator: "I've been to concerts in Vienna. There's nothing anywhere in the world, in my opinion, like coming here."
Brendan O'Shea: "It's just blowing my mind, amazing."
It's a place where awe comes easy.
The Fall Moab Music Festival runs through this weekend at eight different venues around Moab, including "the Grotto".
×
Most recent Utah stories