Estimated read time: 3-4 minutes
This archived news story is available only for your personal, non-commercial use. Information in the story may be outdated or superseded by additional information. Reading or replaying the story in its archived form does not constitute a republication of the story.
SALT LAKE CITY -- In an effort to get aid to those devastated by a tsunami, a plane full of food, clothing, and medical supplies will head to Samoa. The Church of Jesus Christ of Latter-day Saints has partnered up with the group Islamic Relief Worldwide and other donors to get thousands of supplies to the devastated island by Tuesday night.
Elder James J. Hamula, of the LDS First Quorum of the Seventy and Second Counselor in the Pacific Area Presidency, said, "Dozens of villages were completely destroyed, resulting in hundreds of families losing everything."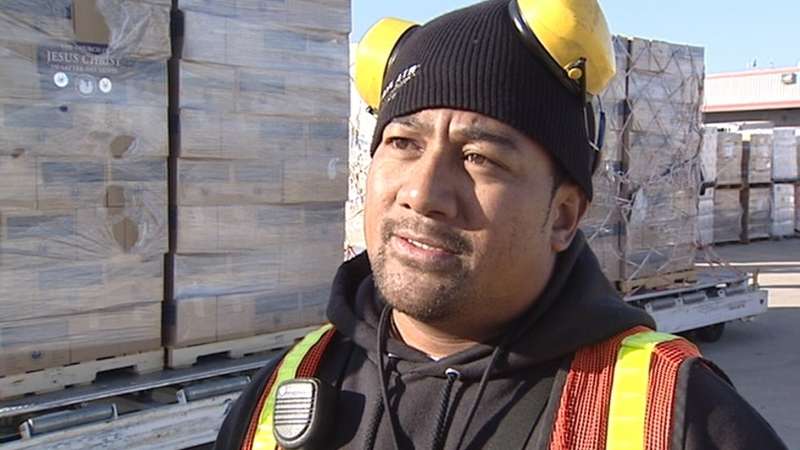 While the supplies will help about 2,000 people on the island of Samoa for the next few weeks, the impact of the shipment is reaching people all over the world. Some of the supplies will go to the family of one of the employees loading the plane today.
Tasi Toala said, "I look around and see all this stuff headed to Samoa, and it just hit me."
Toala fought back tears as he began loading the thousands of supplies headed to Samoa. He was born and raised in Samoa and moved to Utah in 2005. Since the tsunami hit, he's been trying to find out about his family. Monday night he finally reached them, but the news was devastating.
"And my sister told me my family lost eight of them," he said.
Among the dead are his aunt and many of his brother-in-law's family. His own brother is also still listed as missing.
He says it's been painful not being able to do anything to help his family back home, but today at least gave him a chance to feel a little more peace.
Toala's family is one of thousands of families on the devastated island who are now in need of food, shelter, and clothing.
Tuesday the LDS Church and Islamic Relief Worldwide are doing their part in sending it to them. Included in the shipment are sacks of rice, beans, beef, tuna, powdered milk, wheelchairs, clothing, mosquito nets and more.
Hamula said, "For the last several days we have been talking extensively to our people on the ground. They have advised us what is needed, and they have advised us that these things are what are most needed on the ground right now."
He added, "These goods are intended to care for 2,000 people for three to four weeks. Many of the people who will be receiving these goods are right now in the hills under tarps and have nothing but the clothes on their backs."
Nearly 200 people were killed in the tsunamis as the result of an 8.3 earthquake near the islands. Many more are injured, and many are still missing.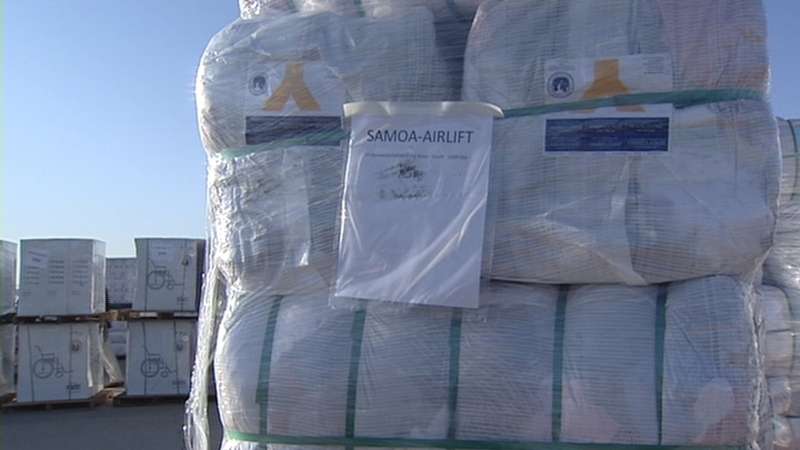 Toala says many of the families who survived need help because they have nothing to eat. "This is what they need right now. All their foods and vegetables are damaged and they have nothing to eat," he said.
Overall, the plane will carry about 60 tons of supplies to the island, many of them from the church's welfare and humanitarian store houses.
Toala says he wishes he were there to help deliver it to his people, and he's grateful people in the community are willing help.
"It makes me very humble right now, seeing all you guys and your love and support," he said.
The LDS Church says that this is their first shipment of supplies headed to Samoa. But they say as they get a better assessment on the situation and what is needed, there will be several more in the weeks to come.
LDS members in Samoa who weren't affected by the tsunami are also helping in the relief efforts, and local church buildings are being used as temporary shelters.
Composed with information from Shara Park and Randall Jeppesen
×
Photos
Related stories
Most recent Utah stories