Estimated read time: 8-9 minutes
This archived news story is available only for your personal, non-commercial use. Information in the story may be outdated or superseded by additional information. Reading or replaying the story in its archived form does not constitute a republication of the story.
SALT LAKE CITY -- It was a moment six years in the making. Elizabeth Smart took the stand at U.S. District Court Thursday during a competency hearing for her accused kidnapper Brian David Mitchell.
For two hours, the 21-year-old recounted the details from the nine months she was held in captivity. [CLICK HERE to read Elizabeth Smart's entire testimony]
She testified Brian David Mitchell came into her bedroom on the night of June 5, 2002, held a knife to her throat and told her to get up quietly, or he'd kill her and her family.
She said he told her to get her shoes on. When she reached for slip-on shoes, he told her to get some tennis shoes.
She asked him why he was taking her. She said he told her he was taking her hostage and keeping her for ransom. She then said that was a lie.
Smart said Mitchell took her to a camp in the mountains, about three miles from her home, where she met Mitchell's wife Wanda Barzee. Smart said Mitchell took her into a tent and performed a marriage ceremony. She said after the ceremony, Mitchell raped her.
She testified that Mitchell raped her on a daily basis, three to four times a day. She also told the court he chained her to a tree to keep her from leaving.
She said, "There was no actual 24-hour period where he wasn't able to rape me."
She said for the nine months that she was held captive, the dominant focus for Mitchell was sex. She said he gave her alcohol and drugs to lower her resistance. He also made her watch pornography. He said it was to humble her.
She recalled a time when she vomited from too much alcohol, and Mitchell forced her to lie face down in it, saying it would show her "true state".
She said, "Anything I showed resistance or hesitance to, he would turn to me and say, 'The Lord has commanded you to do this. You have to experience the lowest form of humanity to experience the highest.'"
She said he used religion to get whatever he wanted. He would use methods like singing if he couldn't get what he wanted to fool people.
Smart said they moved to San Diego when it began to get cold in Utah, and because Mitchell wanted to find another wife. She said it was in California that Mitchell met a family while he pretended to be an LDS investigator, someone who wanted to learn more about The Church of Jesus Christ of Latter-day Saints.
Smart said Mitchell saw a picture of the family's teenage daughter when he was invited to their home for dinner. She said Mitchell wanted to kidnap the girl, but his plans failed.
She described Mitchell as "smart, articulate, evil, wicked, manipulative, sneaky, slimy, selfish, greedy, not spiritual, not religious, not close to God."
She remained calm and composed throughout her testimony.
Brian David Mitchell was not in the courtroom while she testified because as soon as he was brought inside the courtroom, he started singing. He was taken to a room where he had an audio/video feed of the events happening the courtroom.
Battle to prove Mitchell's competency has just begun
Brett Tolman, the U.S. attorney for Utah, said the fight to get Mitchell to trial was far from over, but he was confident moving forward.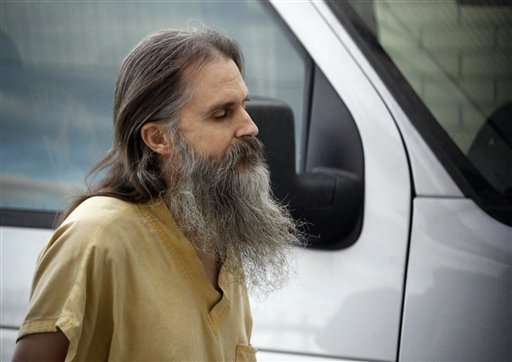 "It is the United States' position that he is competent. We have held that position from the beginning," he said.
"We intend to call dozens of witnesses that have spent a considerable amount of time--especially those that may have spent time with him while he has been in the hospital or incarcerated," Tolman said.
He said investigators also continued to follow up on leads ahead of the remainder of the federal competency hearing Nov. 30.
It is possible this may not be the end of testimony from Elizabeth Smart. Tolman acknowledged she could be called to testify again if this ever goes to trial.
"You never want that to have to happen," Tolman said. "We've discussed it, and Elizabeth and I have discussed it, and we'll do what we need to do if we have to cross that bridge."
Mitchell's attorneys, however, maintained Mitchell was incompetent and unable to rationally assist in his defense.
"There's indications from what she testified to that, that he is delusional, and there's indications that he also is off into his desires," said defense attorney Robert Steele.
He added, "I think the experts disagree. Nobody is saying that is not what happened. There are differing opinions about what all that means."
Ed Smart talks about daughter's testimony
Following Elizabeth's testimony, her father spoke to reporters in front of the courthouse. He said he was proud of his daughter.
Related:
"I was very proud of her, the way she was able to be so forthright and basically paint the picture of Brian Mitchell, of what he is," he said.
When asked if he was surprised by anything his daughter said on the stand, he said, "To hear how, what a predator he was constantly and I just, it was horrible to hear how he abused her."
Smart said Elizabeth wasn't afraid to face her alleged abuser. In fact, she wanted to make sure he heard what she had to say.
"She actually wanted to face him and, in fact, I think she asked Brett if he could be muzzled and have to sit there to watch it," he said.
Smart said his daughter's account of her time in captivity proved Mitchell knew exactly what he was doing.
"If this doesn't cinch the issue of competency, our nation is in really, really bad shape, because it means that anyone out there can manipulate and make the court do what it wants and get away with what they want," he said.
Smart said his daughter's testimony cleared any doubts about Mitchell's true character.
"Hopefully a lot of people learned about what he was like and what he did, and what his intentions were and what his intentions still are, I believe, to do if he ever got out again," he said.
Officer describes finding Elizabeth Smart
It is one of those moments that all of us can remember -- where we were when we heard that Elizabeth Smart was alive. It was news that spread around the world after four Sandy police officers spent nearly an hour questioning a girl about her true identity.
Lt. Victor Quezada, of the Sandy City Police Department, was a shift sergeant on March 12, 2003, when he and three officers arrived to State Street in Sandy, to question a man who fit the description of Immanuel, a person of interest in the Smart disappearance.
The three people were separated and questioned individually. One of them looked like Elizabeth Smart, but she repeatedly denied it. Finally, another officer brought her missing poster from the police station to the scene, but it still took time for her to acknowledge who she really was.
"I know she was a girl trying to survive. She probably did what she had to do at the time in her mind. We assured her many times that she is safe now, it's OK to tell us who you really are. At the very end of about 45 minutes of being interviewed on the street, she finally told me, 'Thou saith.' I had never heard those words before, but we took that as a yes," Quezada said.
Quezada didn't give an opinion on whether suspect Brian David Mitchell was competent to stand trial; however, he did say the man they interviewed six years ago was not behaving like the same man he has been reading about in the news.
"He was not singing, he was not acting erratic. He was not acting crazy, by any means. He was very calm and collected," Quezada said.
Quezada said the presence of Mitchell seemed to overpower Smart and Mitchell's wife, Wanda Barzee.
"You could tell he was taking charge of the whole group, definitely," he said.
Quezada said, as far as he knew, prosecutors have never asked them about Mitchell's behavior.
The Sandy officers said they will never forget being able to help Elizabeth Smart escape the nine-month nightmare she endured.
Rape counselor discusses Smart's decision to testify
Executive Director of the Rape Recovery Center Heather Stringfellow applauded Elizabeth Smart's decision to take the witness stand.
"You know it really does take a brave woman to get up on the stand and tell their story," Stringfellow said. "Tell a very personal and painful story."
Stringfellow said once a victim gets through the testimony it can be empowering to know they've done their part to help hold someone accountable. She also said it could help the victim move forward with life.
KSL Newsradio spoke with attorney Marguerite Driessen about the difference between being insane or competent to stand trial. Listen to that interview at the audio link on this page.
------
Story compiled with contributions from Sandra Yi, Andrew Adams, Anne Forester, Randall Jeppesen, Paul Nelson, Sam Penrod and The Associated Press.
×
Photos
Related links
Related stories
Most recent Utah stories