Estimated read time: 2-3 minutes
This archived news story is available only for your personal, non-commercial use. Information in the story may be outdated or superseded by additional information. Reading or replaying the story in its archived form does not constitute a republication of the story.
Carole Mikita ReportingOne of the busiest choirs in our state is also one of the youngest; the choristers of the Madeleine Choir School perform, tour, and have a new CD.
The 45 members of the Madeleine Choir School may be in music class, but it is a demanding daily vocal workout. None of them mind; each auditioned, each one expressed a love of music at a very early age.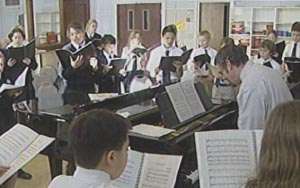 Travis Hewitt, Madeleine Choir School, age 12: "I was into Pavarotti when I was two. I liked to imitate opera guys. So I started singing to music, then I started playing oboe, and now I'm in the choir."
They rehearse an hour every weekday, add four more hours if they have a concert, and they sing during two masses each week.
Ryan Tani, Madeleine Choir School: "Usually go to rehearsals early. I have to sometimes stay after choir practice too, so it's a lot of hard work."
There is more than performing. These youngsters have a new CD, they sing the works of German and Austrian composers.
Malori McGill, Madeleine Choir School, Age 12: "They've had CDs in the past, but I've never been part of the recording. So it felt great to be able to share music for everyone."
Besides being in demand throughout the holiday season and the new CD, the choristers are traveling once again to perform in Europe.
The choir has been invited to sing in the cathedrals of Munich, Vienna and Salzburg.
Gregory Glenn, Madeleine Choir School, Founder & Exec. Dir.: "We'll be singing in two of the churches where these composers that we've recorded, were the music directors in."
'Tis the season to give and these choristers will be raising their voices in songs of the season to bring as much beauty to the community as possible.
The CD is available at the Madeleine Choir School and at the Cathedral rectory.
×
Most recent Utah stories