Estimated read time: 2-3 minutes
This archived news story is available only for your personal, non-commercial use. Information in the story may be outdated or superseded by additional information. Reading or replaying the story in its archived form does not constitute a republication of the story.
COTTONWOOD HEIGHTS -- Police are looking for two men in connection with the robberies of two Rite Aid stores on Thursday afternoon.
The stores--one at 635 E. 3300 South in South Salt Lake and the other at 2378 E. Fort Union Blvd. in Cottonwood Heights--have been robbed for OxyContin several times in the past few months
The Rite Aid on Fort Union Boulevard was the second robbed Thursday. It's been targeted several times before. Police believe it's because the pharmacy is located at the front of the store.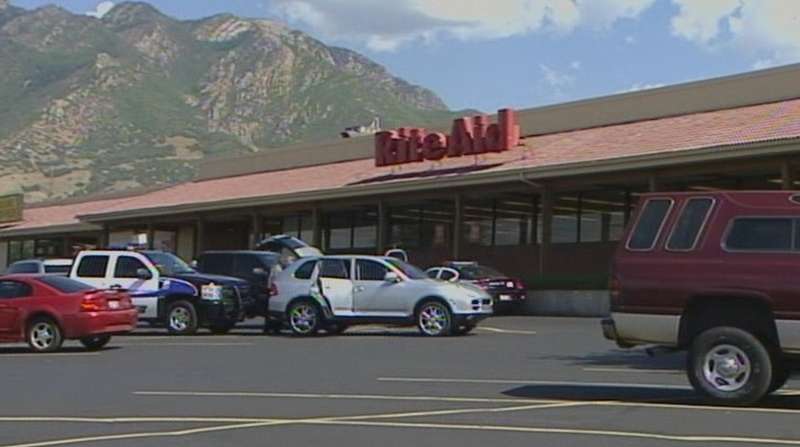 Cottonwood Heights police say a man entered the store around 1:45 p.m. Thursday, brandished a handgun, demanded OxyContin, and then left in a gold Lincoln Towncar.
Sgt. Mark Askerland with the Cottonwood Heights Police Department said, "A similar robbery occurred earlier today, and the suspect description matches in both of these cases."
The Rite Aid in South Salt Lake was robbed around 12:30 p.m. Police say two robbers were involved in that one.
Gary Keller of the South Salt Lake Police Department said, "As they entered the store, they assaulted a customer. They hit him alongside the head with a handgun; left a small contusion. He's OK. We had medical look at him. He refused transport to the hospital."
The robbers continued to the pharmacy, jumped over the counter, threatened the pharmacist with a handgun and demanded OxyContin.
They left in a manner similar to past robberies--through a nearby canal to a getaway car parked in a surrounding neighborhood. This is the fourth time the South Salt Lake store has been robbed in recent months.
Last month, federal agents indicted six people--some related to one another--suspected of robbing Rite Aids throughout the Salt Lake valley. Police don't believe the cases are connected.
"I don't believe they're part of that family," Keller said. "We're trying to figure out if this is a copycat robbery or if it's another crew that was operating during the time the other family was doing the robberies."
If you have any information on these robberies, please call Cottonwood Heights or South Salt Lake police at 801-840-4000.
E-mail: ngonzales@ksl.com
×
Most recent Utah stories