Estimated read time: 3-4 minutes
This archived news story is available only for your personal, non-commercial use. Information in the story may be outdated or superseded by additional information. Reading or replaying the story in its archived form does not constitute a republication of the story.
PROVO -- In the first regular-season Top 25 poll by The Associated Press, No. 9 BYU has jumped 11 spots and No. 4 Alabama has received two first-place votes.
The Cougars pulled the biggest upset of the opening weekend of the college football season, beating Oklahoma 14-13 on Saturday.
Many said it couldn't be done. The Cougars were 22-point underdogs to the No. 3 team in the country, which was led by Heisman Trophy-winning quarterback Sam Bradford. Now, their victory over the Sooners may go down as the biggest regular-season victory in school history.
"As a kid you dream about having a drive like that to win a game versus Oklahoma in the Dallas Cowboys Stadium," said BYU senior quarterback Max Hall. "It happened, and it was just an amazing feeling."
Related:
The win was no fluke. The Cougars matched their strength and speed throughout the game, proving to the entire country that they could compete with one of the elite teams in the country.
"We knew we could do it," said BYU junior cornerback Brandon Bradley. "I feel like we did a good job of going out there and playing hard and being physical and doing the things we're supposed to as a team, and we came out with a victory."
The Cougars were up to the challenge against the third-ranked Sooners, but now they face a different challenge: They will be the overwhelming favorite on the road against Tulane on Saturday--a team picked to finish last in Conference USA.
"Our coaches do a good job of making sure we return back to earth," Bradley said.
Dennis Pitta had seven catches for 90 yards against Oklahoma. He is also one of the team's senior leaders and will do everything he can to prevent a letdown in New Orleans after a big win.
"If we don't win this week, then last week doesn't mean a whole lot," Pitta said. "We understand that, and we understand the importance of this Saturday."
Last year, the Cougars made national headlines after a 59-0 win over UCLA and moved as high as eigth in the polls before they were humbled in a 32-7 loss to TCU.
Head Coach Bronco Mendenhall believes the lessons learned from last year's early success will help them this season.
"I'm not sure this team will allow themselves to think about anything else other than getting ready for our next opponent, considering its only the second week of the season," Mendenhall said.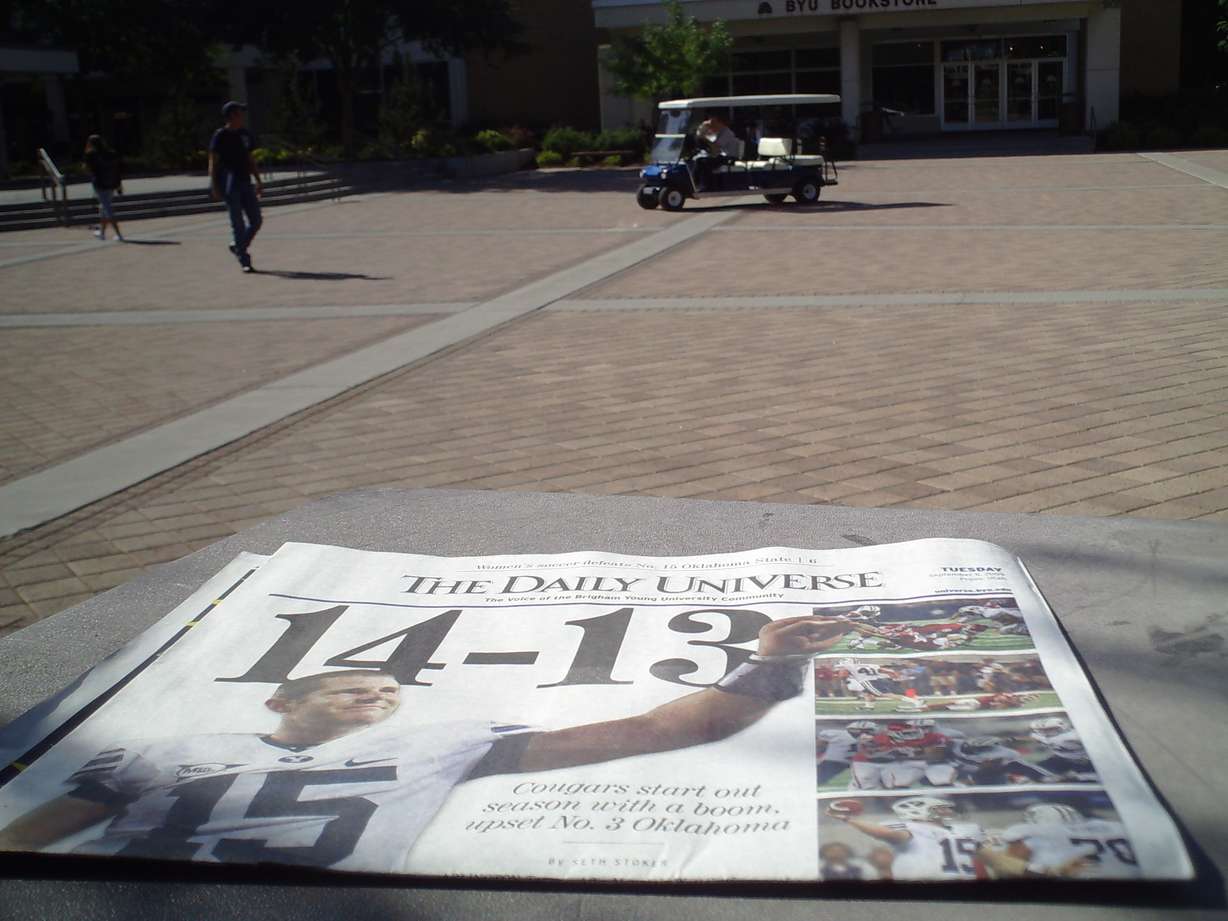 Meanwhile, news of the Cougars' Top 10 ranking made the first day of classes at BYU a lot better for many students.
Marshall Hill from Sandy says it was one of the coolest games he's watched in a long time. He expected BYU to be ranked somewhere around 12th.
"I'm not going to lie, I was really surprised, but I've got a lot of friends on the team and I was really excited for them," Hill said.
Other students say they still can't believe the celebrations that ran through Provo Saturday night after the win. Some described hundreds of people cheering, honking car horns and screaming. BYU "was alive" said one student.
"It was really fun actually. It was a side of Provo I've never experienced before," said Hill.
Several students told us the ranking is important because it's a sign of respect for both BYU and the Mountain West Conference.
Mendenhall agreed, saying, "If you look at the coaches now in this league and how they're preparing their teams, it's starting to show, regardless of who we play, and that's a positive for everybody."
Story compiled with contributions from Jeremiah Jensen, Randall Jeppesen and The Associated Press.
×
Most recent Utah stories