Estimated read time: 2-3 minutes
This archived news story is available only for your personal, non-commercial use. Information in the story may be outdated or superseded by additional information. Reading or replaying the story in its archived form does not constitute a republication of the story.
Nadine Wimmer Reporting In the Utah weight lifting world there is one individual who breaks the mold and the records. Don't let her petite frame fool you, Michelle Glasgow may only be 14-years old, but this Provo 8th grader can lift more than the rest. Last weekend Michelle was named "best lifter" at the state championship, breaking eight Utah records.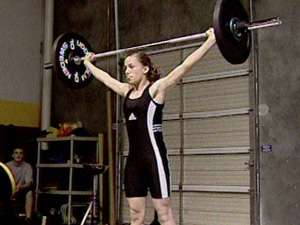 Michelle Glasgow: "My dad wanted me to do it to help my sports. I started breaking records, so my dad made me go to contests like this. I love weight lifting. It's fun to be at these meets. It's hard work at the gym, but it's worth it, I guess."
And hard work it is. Michelle trains twice a week. Her dad, who is also her coach, knows the numbers all too well. A math professor and former Olympic weight lifter himself, Scott Glasgow became aware of his daughter's unique strength about three years ago.
Scott Glasgow: "We started noticing she was lifting more at the state records in her body weight class and division and we thought, 'wow, we should go put her name on these records.'"
Michelle says at times the attention she receives from her peers can be somewhat embarrassing.
Michelle: "Everyone is always like 'Oh, you could probably beat me up.' They think it's cool to have a, they say, Arnold, at their school."
Winning these records has taken the weight off the Glasgow family, literally. They work out together each and every Monday night at the BYU gym."
Julie Glasgow: "She's still young, you worry about them lifting too much weight. She's in an important transition--teenage time. You don't want to stunt their growth. We have to keep a close watch."
Michelle's next heavy load will be at the national meet coming up this summer. And when asked about Bejiing...
Michelle: "I don't know about that. It could happen."
Michelle is highly favored to win this year's national competition. She is already lifting almost 50 pounds more than last year's champion.
×
Most recent Utah stories