Estimated read time: 2-3 minutes
This archived news story is available only for your personal, non-commercial use. Information in the story may be outdated or superseded by additional information. Reading or replaying the story in its archived form does not constitute a republication of the story.
Heavy rains and rising waters threatened the main route to northern Utah's Cache Valley early Friday, and a mudslide was within about 15 feet of town houses in Cedar Hills.
Earlier, Garfield officials diverted overflowing sewage into the Malad River rather than have it back up into homes.
In Cedar Hills, 25 miles south of Salt Lake City, a mud slide threatened four town houses in a single structure, Mayor Mike McGee said. He said the families had been put up in motels.
The rain originally had been expected to dwindle after midnight, but it still was raining heavily early Friday morning, McGee said.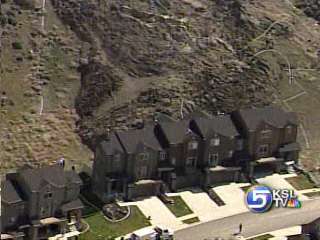 The 24-hour rainfall in Box Elder and Cache counties, which abut the Idaho line, set records for the date. Brigham City, 50 miles north of Salt Lake City in Box Elder County, recorded 1.17 inch of rain and Logan, 70 miles north of Salt Lake, had 1.87 inches.
The main highway between Brigham City and Logan, U.S. 89-91, was threatened by the Little Bear River, which was above flood level, Cache County sheriff's Sgt. Mitch Frost said early Friday.
Utah 165 was closed due to flooding from the Blacksmith Fork River, which was 11/2 feet above flood stage, he said. The river had caused some flooding in Nibley, but it was not known how much.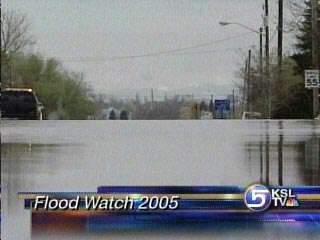 One road in Logan was closed when it was covered in water, and the city golf course was flooded, Mayor Doug Thompson said Thursday.
Besides minor flooding in basements, one house endangered by flooding was sandbagged.
Another subdivision got sandbags Monday night. "We were ready, we protected those homes," Thompson said. "It turned out to be a great drill for us, great training for an emergency without being in one."
In Box Elder County, the high waters receded late Thursday but earlier in the day, the heavy rainfall was blamed for a sewer overflow problem in Garland City. To relieve overflow and prevent sewage from backing up into homes, the city discharged untreated sewage into the Malad River, which is not a source of drinking or irrigation water.
The river does drain into Bear River, a source of irrigation water, but officials said the irrigation season has not yet started.
Officials urged residents to stay away from the Malad River, which would continue to receive the overflow until the situation came under control.
Gov. Jon Huntsman said emergency officials were prepared and "ever vigilant" for flooding that could occur over the next few days.
Southern Utah is on high alert for a possible replay of January floods on the Virgin and Santa Clara rivers, when floods caused an estimated $200 million in damage, and "we're going to monitor this very carefully," Huntsman said Thursday at his monthly televised news conference.
(Copyright 2005 by The Associated Press. All Rights Reserved.)
×
Most recent Utah stories