Estimated read time: 2-3 minutes
This archived news story is available only for your personal, non-commercial use. Information in the story may be outdated or superseded by additional information. Reading or replaying the story in its archived form does not constitute a republication of the story.
UTAH COUNTY -- Court documents show a theft ring involving printer ink cartridges stolen from office supply chain stores in western states had been operating for six months.
Police Friday are crediting an alert store employee and a taxi driver for helping catch four suspects in the crime.
The theft ring unraveled Thursday morning when three people entered the Staples store at 165 N. State St. in Orem. An employee recognized them from a company memo regarding people involved in stealing printer cartridges and called police.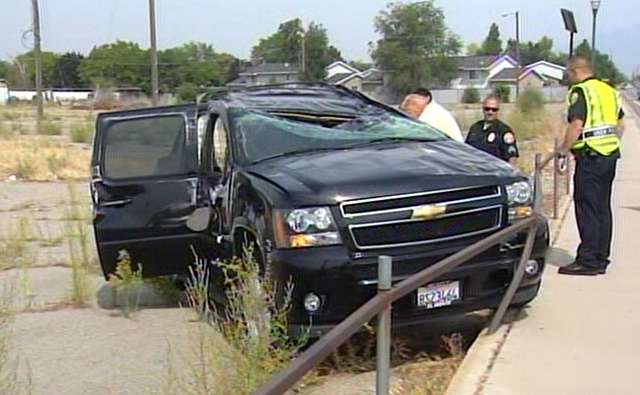 An officer found the getaway car, a Chevy Avalanche, in the parking lot.The driver fled and the officer pursued. The Avalanche crashed into a delivery van a few blocks away from the store, on Orem Boulevard.
Tom Hayward saw it happen. "By the time I slammed on my brakes to make a complete stop, he hit the curb, flipped over twice, broke out of the back window, climbed out of the car and the cops had to tase him," Hayward said.
In the meantime, the three other suspects in the store-- a man and two women-- ran off and called a taxi. The cab driver became suspicious and approached police at the scene. The three suspects ran but police caught all of them.
Court documents filed Friday indicate the suspects admitted to detectives that they had been targeting stores such as Staples, Office Max, Office Depot and Target in Utah, Nevada, California, Texas, Washington, New Mexico and Colorado.
In the getaway car, officers found two garbage bags full of printer cartridges worth more than $5,000.
All four suspects-- identified as Elvin Alfaro, Blanca Torres, Julio Alas and Maritza Manzano-- are from Los Angeles and are in the Utah County Jail on charges of theft and evading arrest.
Detectives from other jurisdictions-- including those investigating a theft in Salt Lake three weeks ago-- also are looking at the suspects.
Officers are trying to add up the value of all of the stolen cartridges, which the suspects are believed to have sold for cash.
E-mail: spenrod@ksl.com
×
Related stories
Most recent Utah stories