Estimated read time: 2-3 minutes
This archived news story is available only for your personal, non-commercial use. Information in the story may be outdated or superseded by additional information. Reading or replaying the story in its archived form does not constitute a republication of the story.
ROY -- A Roy man is in the Weber County Jail after rolling his vehicle onto two sets of busy railroad tracks.
Police say 27-year-old Sean Thomas was drunk when he got behind the wheel of his car Wednesday night. After he crashed and was transported to the hospital, our newsroom heard on police scanners that his alcohol level was more than five times the legal limit.
"It's still an ongoing investigation, but alcohol is a factor," said Bryce Weir of the Roy City Police Department.
Thomas' white Chevrolet Cobalt rolled nearly 150 feet from 4000 South and 2400 West around 11 p.m. It finally came to a stop upside down between Union Pacific railroad tracks and FrontRunner tracks. Witnesses told police the car took out several street signs along the way.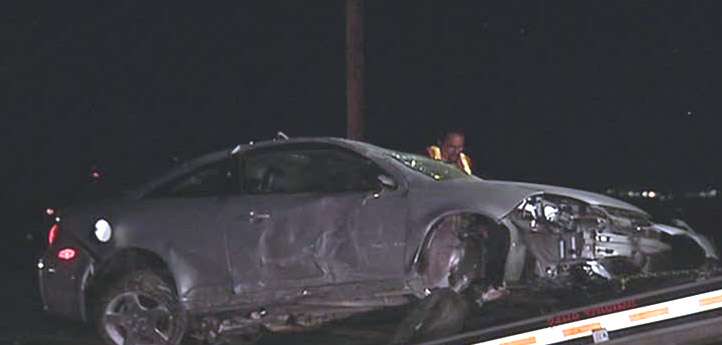 "As I understand, he was coming down the roadway, started going across the tracks, went off the side of the road, hit into the side of the road, lost control, and then rolled several times off to the side," said Weir.
As emergency crews responded, both Union Pacific and UTA authorities were notified of the crash and told to shut down their trains. A FrontRunner train was in the process of leaving the Roy station but was able to stop before reaching the crash.
"There are four sets (of tracks) here, two FrontRunner and two Union Pacific tracks. So obviously, because they are such active tracks, we wanted to get down and get that vehicle squared away as soon as possible. The railroad officials did a wonderful job in quickly getting that area shut down so we could clean up as soon as possible," said Weir.
Police say as they helped Thomas away from the tracks it was obvious he was under the influence. They said they could smell alcohol on him, and when they asked him to take a breathalyzer test he refused and became belligerent.
He was transported to McKay-Dee Hospital, where police followed up with a warrant and a blood draw. They're now waiting for the official toxicology report to determine just how drunk he really was.
Police say it could take several weeks before they get the official toxicology report.
In the meantime, he has been booked into the Weber County Jail for DUI and no proof of insurance.
E-mail: spark@ksl.com
×
Most recent Utah stories