Estimated read time: 1-2 minutes
This archived news story is available only for your personal, non-commercial use. Information in the story may be outdated or superseded by additional information. Reading or replaying the story in its archived form does not constitute a republication of the story.
SALT LAKE CITY -- KSL is launching an effort to celebrate excellence in athletics and academics in Utah high schools. It's called Friday Night Flights.
Chopper Five and the KSL News team will be making the rounds on Friday night high school football, showing the best schools have to offer on and off the field.
Few things spark school spirit like football season, and academics and athletics go hand-in-hand.
"I believe successful programs have good students," said Alta High School Principal Mont Winderberg.
Windberg has been a coach, teacher and now principal of 5A football powerhouse Alta High, where the star linebacker, Tolai Hoching, is an athlete and scholar, with a 3.85 GPA.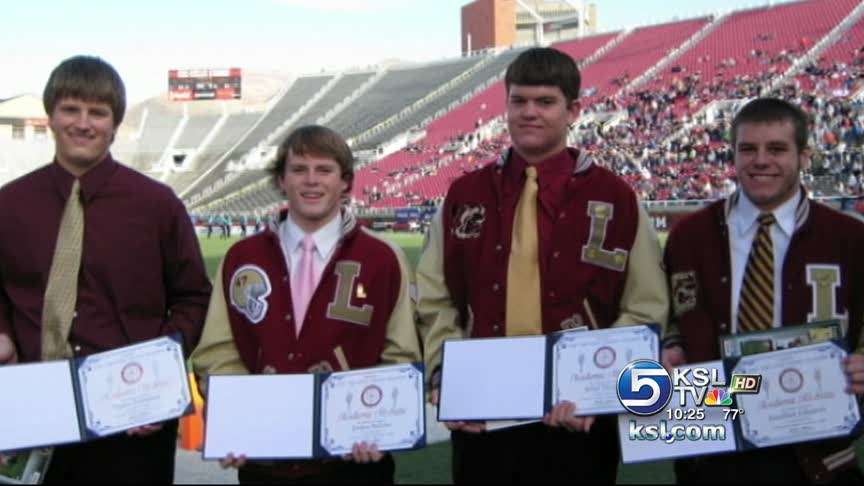 Alta's Friday night opponent, Bingham High School, also competes in academics. Their star running back, Harvey Langi, has a 3.8 GPA.
Logan High finished last season with four academic all-stars with 4.0s, who all went on to become the school's valedictorians.
"Football is a powerful vehicle to inspire student athletes to excel, both in the classroom and on the playing field," said Logan High School Coach Mike Favero.
Pleasant Grove's 4.0 quarterback Dallas Lloyd already has a challenging season and plans with Stanford University next year.
These are just a few of the victories we can show before Friday's big games even start. KSL News and Chopper 5 will cover high school sports from one end of the state to the other and recognize academic accomplishments.
For this ongoing effort, we encourage you to send your success stories and videos to KSL Schools on KSL.com.
E-mail: dwimmer@ksl.com
×
Most recent Utah stories