Estimated read time: 2-3 minutes
This archived news story is available only for your personal, non-commercial use. Information in the story may be outdated or superseded by additional information. Reading or replaying the story in its archived form does not constitute a republication of the story.
BIRDSEYE -- A wildfire burning in Utah County has had fire crews on it for six weeks now, but those crews aren't trying to put it out. Instead, they're letting it burn to clear out all the thick brush, which will help prevent more severe fires in the future. But letting it burn has sparked a little controversy.
The Forest Service had a lot of phone calls from worried residents since the fire began with a lightning strike on July 2. It's burning in the Manti-LaSal National Forest near Thistle and Birdseye, and so far it has burned about 1,600 acres.
Bill Robinson has called the small town of Birdseye home for the past seven years. He's been a cowboy longer, so when he first saw flames and smoke near his ranch and firefighters on the job, he didn't get worried.
"They know what they're doing," Robinson said. "Sometimes the wind changes their mind, but that happens."
Besides, Robinson feels a little fire is good for the land in the long run.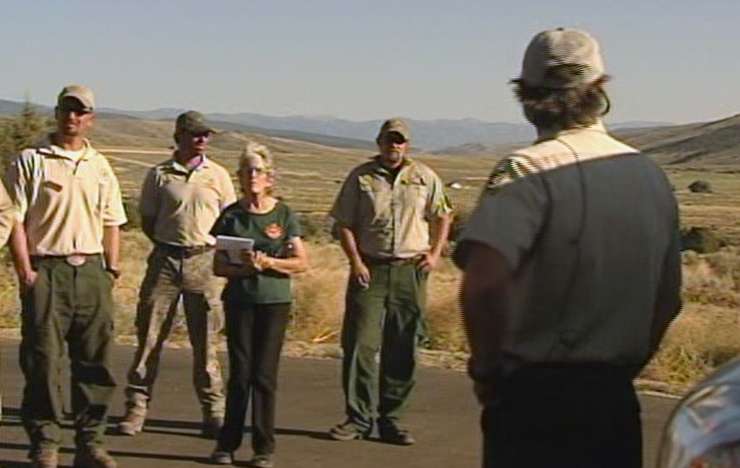 "Mother Nature springs new life, and it will be more beautiful there than ever," he said.
The U.S. Forest Service feels the same way, so forest rangers have been letting the Lake Fork Fire burn while they manage it, making sure it doesn't get too close to homes, property or grazing land. But letting it burn has caused concern for some residents.
"They've had questions about when are we going to stop the fire? Questions about what about the smoke?" said Forest Service spokeswoman Rosann Fillmore.
The Forest Service had so many calls it decided to hold an open informational meeting Thursday night in Birdseye about the fire, but only a handful of residents came to the meeting.
"I'd like to see a lot more people out here because it's educational," said Indianola resident Steve Roylance.
Still, Forest Service officials spoke to those residents, answered questions and tried to reassure them the fire is under their control.
"Our fire managers manage the fire. They have fire lines in place and have decided the boundaries fo this fire, and they will take action to keep it within those boundaries," Fillmore said.
Fire managers say there are crews available to them if the fire gets out of control, but they do not anticipate that. The fire is burning slow, and they'll let it go as long as they can. Last year they managed a fire that burned until the first snowfall.
E-mail: acabrero@ksl.com
×
Photos
Most recent Utah stories