Estimated read time: 3-4 minutes
This archived news story is available only for your personal, non-commercial use. Information in the story may be outdated or superseded by additional information. Reading or replaying the story in its archived form does not constitute a republication of the story.
DRAPER -- A 19-year-old Draper man who was tragically paralyzed following a prescription error is back home. Now Jessie Scott's parents are rebuilding their Draper home to help their son live with his lifetime disability.
We began Jessie's story in 2008. He was in a coma, not expected to live. He had been given one teaspoon of prescribed Oxycodone hydrochloride to help him with a severe sore throat. But instead of 5 milligrams, the filled prescription was actually a lethal 20 times what the doctor ordered.
Jessie came out of the coma seven months later. Now, back home, he's talking and feeding himself. Though a quadriplegic, his progress amazes everybody.
"He's in uncharted waters, as far as we're concerned," said Wayne Scott, Jessie's dad. "He's far surpassed what they thought he would do."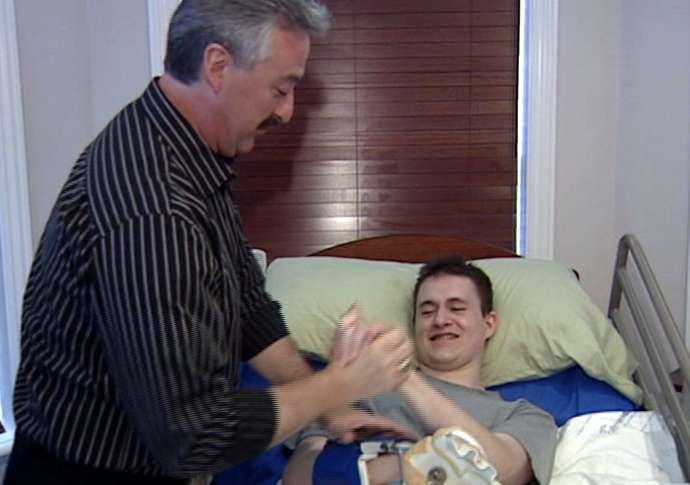 Jessie itches his forehead with his left hand. He shows some movement in his legs. He squeezes his fingers, even arm wrestles with his dad. But his cognitive skills are really amazing.
"His speech is there. His mind is there. He can tell things when he was 3 years old in detail. He remembers things we don't even remember," said Laurie Scott, Jessie's mom.
The Scotts' home has been modified with ramps, chairs squeezed into a tight shower stall, even a hydraulic arm that lifts Jessie from bed into the wheelchair. Therapists and nurses routinely help out. So what does Jessie's future look like?
A hole in the ground in the back of the house may not look like much now, but when it is finished Jessie literally will have his own place to live. It will be complete with a kitchen, a bedroom, a bathroom, washer, dryer, a track system to get him to and from a therapy pool--a place for friends to come visit and a private entrance.
For Wayne and Laurie, life has changed dramatically.
"Get up at 1:00 or 2:00 in the morning to change your 19-year-old's diaper? You never get ready for that, but you do it because you have to. He can't, so we do," Wayne said.
The family remains positive, but heartaches linger.
Meanwhile, Wal-Mart has reached a settlement with the family. The prescription error happened under the supervision of pharmacist David C. Evans.
While employed at a local medical center in 1980, Evans' license was suspended for theft and use of drugs. He got another suspension in 1987 for the same violations at a local hospital. Wal-Mart hired him in 2007, two years after his license had been reinstated.
In early May, after Jessie's incident, Wal-Mart again reprimanded Evans for wrong information on a prescription label and placing the wrong product in a container. He was counseled again for more mistakes later that month, and again in August.
In early August, police stopped Evans after a report of reckless driving. In this incident, attorney David Olsen said, "Evans displayed a level of impairment that would not only affect your ability to drive but your ability to properly perform a safety sensitive job."
Evans' license was revoked in October for five years.
Still, despite the record and what happened to Jessie, the Scotts hold no grudges.
"He actually should have to pay a price for what he has done, some form of punishment But we don't go day-by-day feeling angry," Laurie said.
"And in doing so, discouraging others in a similar situation. That's the whole reason. We just don't want it repeated to anybody else," Wayne added.
Jessie also has quelled anger. Despite severe damage to the brain, he's determined to do what many say is impossible.
"I'm determined to push myself until I can walk," Jessie said.
Dr. Erin Bigler says Jessie's recovery is so unique he plans to follow this young man for years to come. How far Jessie can rewire and adapt with this kind of toxic brain injury will become a major research project.
E-mail: eyeates@ksl.com
×
Related stories
Most recent Utah stories