Estimated read time: Less than a minute
This archived news story is available only for your personal, non-commercial use. Information in the story may be outdated or superseded by additional information. Reading or replaying the story in its archived form does not constitute a republication of the story.
SALT LAKE CITY -- A young child was a participant in a burglary in Salt Lake City.
A woman came home Sunday afternoon near 900 South Glendale Street and saw a boy close to 3 years old inside, with three men. One of the men was holding her TV. He dropped the set, grabbed the boy's hand and told him, "Come on, Lulu." The burglars ran away. They took off in an older green Lexus.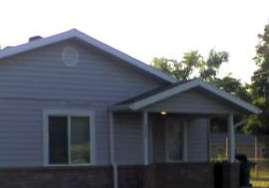 The woman declined to go on tape with KSL, but she says she believes the burglars lifted the boy through a window so he could open the door for them.
Police are still looking for the burglars. One is described as a Polynesian man, 5 feet 11 inches tall and heavyset with short brown hair. He's believed to be 17 or 18 years old. Another burglar is described as Latino, also 17 or 18, about 5 feet 7 inches tall with a fauxhawk (the sides of his head shaved). There is no description of the third burglar. The child had short brown hair and wasn't wearing shoes.
E-mail: aadams@ksl.com
×
Most recent Utah stories