Estimated read time: 2-3 minutes
This archived news story is available only for your personal, non-commercial use. Information in the story may be outdated or superseded by additional information. Reading or replaying the story in its archived form does not constitute a republication of the story.
SALT LAKE CITY -- A crowd of frustrated Utahns took to the roads of downtown Salt Lake City to protest access to backcountry roads. They worry the federal government has too much say when it comes to the state's public lands.
On four-wheelers and dirt bikes, hundreds trekked from the City County Building to the state Capitol Saturday afternoon during the "Take Back Utah" rally. They hoped to send a message to those in high levels of government: keep public lands public, open to everyone and every vehicle.
Rally participant Matt Estrich said, "We're out here today showing government we want to keep public lands public."
The frustration protesters felt was evident -- frustration that motorized vehicles are not allowed on all lands, mandated by the federal -- not state -- government. They also fear what lies ahead with the Obama administration.
Rep. Mike Noel, R-Kanab, said, "They're going to shut down public lands. They're canceling leases. They've shut off the resources management plans. We spent 10 years on those plans, and a lot of money for Utah. They've shut them off."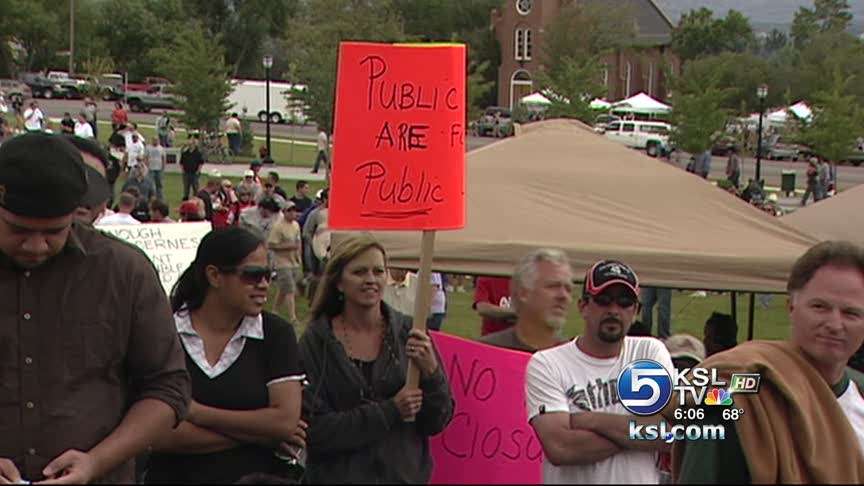 Senators Orrin Hatch, R-Utah, and Bob Bennett, R-Utah, spoke at the rally, vowing to continue their work to open lands.
"I just want you to know we're fighting the battle back there," Hatch said. "We're a small minority with just 40 Republicans but we're doing the best we can."
But there's another side to that battle. Members of environmental groups say Utahns can enjoy the land without an engine. The Southern Utah Wilderness Alliance (SUWA) says the majority of people in the state actually want more environmental protections
Heidi McIntosh, SUWA's associate director, said, "Seventy-eight percent of Utahns we polled in 2005 said off-road vehicle use needs to be reigned in, needs to be better managed."
The organization says tens of thousands of miles of trails in the state are already open to off-roaders and the effects are highly visible.
"What you see is soil erosion, the loss of native vegetation," McIntosh said. "A lot of times weeds will attach to the undercarriage of these vehicles. So wherever you see a road, an off-road vehicle trail, you tend to see a lot of weeds, which tend to be very flammable."
Obviously these two sides don't see eye to eye. To read more about both, see the Related Links on this page.
E-mail: sdallof@ksl.com
×
Related links
Most recent Utah stories