Estimated read time: 4-5 minutes
This archived news story is available only for your personal, non-commercial use. Information in the story may be outdated or superseded by additional information. Reading or replaying the story in its archived form does not constitute a republication of the story.
NORTHERN UTAH - Hundreds of lightning strikes combined with gusting winds and bone-dry conditions to set the stage for a rash of wildfires across Utah that have kept crews scrambling and calling for additional help for two days. After a whole summer of almost no fire activity at all, fire crews say it was only a matter of time.
"What we needed was an ignition. The fuels were there, the conditions were there, and it was increasingly becoming more of a typical fire season for us. We just needed the ignition, and this is what happened. We don't just have fires here, we have them all over the state," said Teresa Rigby, spokeswoman for the Bureau of Land Management.
Skull Valley
Tooele County is battling several fires and a lot of smoke. The Settlement Canyon Fire* has burned more than a hundred acres and is threatening some cabins just south of Tooele. However, the biggest concern for fire crews is the Big Pole Fire burning in the northern part of the Stansbury Mountains.
Fighting this fire is tough for two reasons: No. 1, of course, is the wind. It's starting to pick up again, which always makes controlling a fire extremely difficult. And No. 2, there are a lot of places where this fire is burning.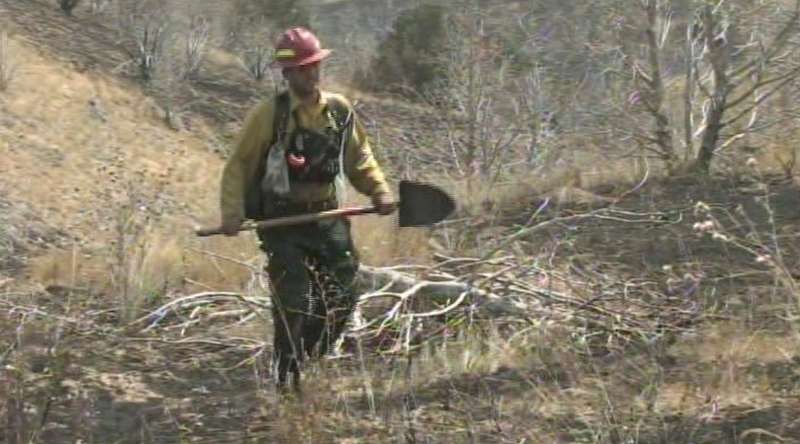 A bunch of smaller fires have broken off from the main fire, causing fire crews to have to split up as well. So far, the Big Pole Fire has burned close to 45,000 acres on the Skull Valley and Grantsville sides of the Stansbury Mountains.
Fire crews are hiking up steep terrain to try to dig a fire line to prevent the fires from spreading any further. They're also cutting down trees that have partially burned so if the fire comes back that way, it won't have anything to fuel it.
Related:
So far, the Big Pole Fire is only 15 percent contained, and crews know that if the winds get heavy again like they did the past two nights more homes could be threatened.
"With today's weather, obviously the wind isn't as bad, so we're getting in there, doing a lot more work and being more effective. The wind is working with us. The one thing we're not looking forward to is we have another front approaching, and with that we just can't predict what the winds will do. It might change the whole ball game," said Brenyn Lohmoelder, with the Bureau of Land Management.
Already, one home was burned in the Skull Valley area, and the flames were getting really close to other homes and ranches in the area.
Fire crews let KSL 5 News close to ranch Friday where flames did plenty of damage, burning down a few smaller buildings. Some hot spots were still burning as we were there, and a fire crew was assigned to remain in the area in case the flames started getting out of control again.
We weren't allowed to get close to the one home that did burn to the ground.
That's why crews say they're trying to work as hard as possible now before those winds pick up strong again.
Wildfire firefighter Randy Teel said, "I don't know if you can see where some of the smoke is coming up from the trees. They're just cutting that out, digging it up and putting it out so it really doesn't have any chance to get anywhere. Some of the spots really won't go anywhere, but we're just putting them out to make the smoke go away."
Thursday, that smoke made fighting the fire very difficult. In some places, fire crews had to retreat their positions because they couldn't see 5 feet in front of them.
Friday, so far, has been much clearer, giving firefighters a better view of what they're doing. It also showed them how much damage this fire has done.
Saratoga Springs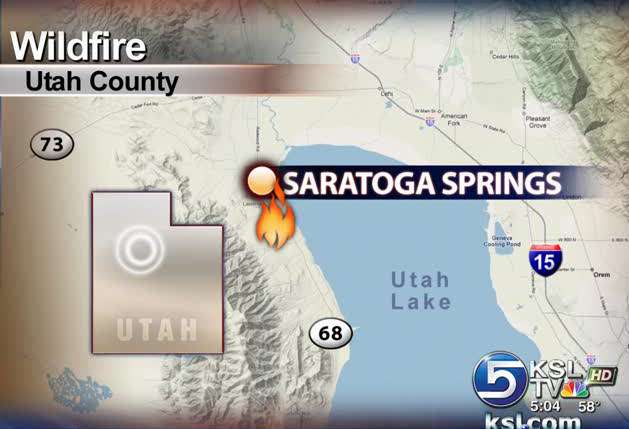 Another fire came dangerously close to homes near Saratoga Springs Thursday night. It started along Highway 68 and consumed more than 100 acres.
Highway 68 is back open, but firefighters are still battling hot spots.
Smoky Skies
Monica Traphagan with the National Weather Service in Salt Lake City says a storm front brought lightening Thursday, which sparked the fires and filled the air with smoke.
"Everywhere is seeing the smoke," she said. "The strong winds brought that smoke everywhere."
A cold front is expected to bring rain Friday night, which should clear the air. Darboven says potential thunderstorms can be both good and bad for firefighters: The storms are good if they bring rain, but bad if they bring more lightening.
To get the complete forecast, CLICK HERE.
------
Story compiled with information from Alex Cabrero , Mary Richards, Cleon Wall, and The Associated Press.
*Editor's Note: The video clip above titled "Aerials of Settlement Canyon Fire" is actually video of another fire in the Skull Valley area.
×
Related links
Related stories
Most recent Utah stories