Estimated read time: 2-3 minutes
This archived news story is available only for your personal, non-commercial use. Information in the story may be outdated or superseded by additional information. Reading or replaying the story in its archived form does not constitute a republication of the story.
WEST VALLEY CITY -- A man is in serious condition Thursday morning after being stabbed multiple times at a West Valley City park. Police say it appears the attack is gang related.
Police say both parties involved have gang affiliations, and a Wednesday night meeting in Hunter Park (3600 S. 6000 West) was to settle some sort of grievance.
Capt. Tom McLachlan of the West Valley City Police Department said, "The victims' group was not there for a picnic."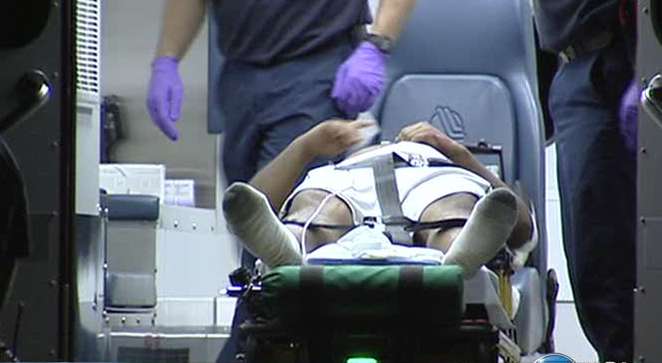 The group of about 10 people, including children, was in the park around 9:45 p.m., waiting for a second group of rival gang members to arrive.
Lt. John Coyle of the West Valley City Police Department said, "We had a family hanging out in the park and a bunch of kids came from the opposite end of the park and called out to the male family members by name."
Police say a group of five to seven men approached the family holding baseball bats and golf clubs. When they identified the two brothers they were looking for, they attacked.
"A stabbing ensued. One of the 25-year-old males suffered multiple stab wounds," said Coyle.
The victim was stabbed twice in the back and once in the left check with something other than a knife. Police won't say with what, but say the victim's injuries were severe enough that he was transported to the hospital in critical condition.
"We're holding back a lot of information right now because if it gets out at this stage in the investigation, it might compromise some information we have," said McLachlan.
Police say after the attack, the suspects -- who range in age from 18-25 -- fled the park on foot. Officers set up a perimeter in the area. K-9 units and the Metro Gang Unit looked for the attackers throughout the night but they managed to escape.
All the attackers were wearing red and black, the colors of a known gang in the area.
Officers say if the suspects are caught, they will face aggravated assault charges and possibly attempted murder charges.
------
Story compiled with information from Shara Park and Andrew Adams.
×
Most recent Utah stories