Estimated read time: 4-5 minutes
This archived news story is available only for your personal, non-commercial use. Information in the story may be outdated or superseded by additional information. Reading or replaying the story in its archived form does not constitute a republication of the story.
SALT LAKE CITY -- With money so tight, filling up a grocery cart can be a painful experience. But there are some who are living on a lot less than what you may think.
In fact, several families eagerly stepped up to our challenge to live on only $100 worth of groceries for seven days. And they did it without coupons, or without eating copious amounts of ramen noodles and microwave burritos.
Still the $100 challenge wasn't for everyone. "No, definitely not," said Lisa Gordon of Salt Lake City. She has three children. "I just have growing kids, and there's just no way $100 is going to do it."
$100 Challenge
But Gary and Brittany Jones of Magna have growing children too. Though their children are much younger, they've been living on a monthly grocery budget of $175. To them $100 for a week was almost a luxury. But there was a difference as well.
---
If I see a real good deal on something that I know we'll use, I'll pick it up.
–Brittany Jones on her shopping strategy
---
For the week, they couldn't rely on food they already had, like bulk items in their pantry and freezer. They were allowed to use existing condiments, such as flour, sugar, ketchup, mustard and salt and pepper. They were also allowed to use any produce gathered from their backyard garden.

The Joneses rearranged their thinking about a year ago. "We had about $4,000 out-of-pocket for medical expenses," said Gary Jones. "Plus we bought our house last year and the two really forced us to tighten our belts."

A lot of people are tightening their belts. The Utah Food Bank, in its report on Hunger, says Utah ranks No. 4 when it comes to "food insecurity."

**Utah Hunger Facts**

• 1 in 10 Utahns, 1 in 8 children live in poverty • 1 in 7 children under 18 is at risk of hunger • Utah ranked 4th in nation for highest rate of food insecurity (missing or skipping a meal) • Over 134,000 Utahns receive food stamps (less than half of those eligible) • Over 63,000 Utahns a month eat dinner at a soup kitchen • Almost 300,000 children (about 40% of school-age children) receive free or reduced lunch -*Utah Food Bank*

**Science of Shopping**

But at the Jones house, they feel pretty secure for now. Brittany Jones took us, her three children and her $100 on a shopping trip, to an unadvertised store in Salt Lake's industrial area, called NPS. She's almost made a science of shopping, take bread for example. At NPS a loaf cost $1.19. "This is usually $3.00 at Wal-Mart", Jones said.

She shops from a list, based on a weekly menu, and isn't afraid to buy off-brands, and looks for a bargain. "If I see a real good deal on something that I know we'll use, I'll pick it up," she said.

By her math, Jones saves about 30 percent over big-brand stores. "I don't think there's any sacrifice at all. If anything, we get better food here."

With a cart full of meats, fruits and vegetables, sauces, bread and milk for a week, the total was impressive. "It was $61.66." She bought a few other items at Wal-Mart to round it out.

Their plan was to stick to what they've already been doing: a planned menu for dinner; sandwiches and fruit for the kids' lunches; leftovers for Gary Jones' lunch; various items for breakfast and a variety of snacks for the children.

Stick to your List

In Taylorsville, we followed our second family, Daniel and Mandy Romney and their two children, ages 2 years and 1 month, to Wal-Mart. They too had a list and a menu, and stuck to it.

"You don't always get everything that you want, said Daniel Romney. "You have to kind of, you know when you're looking for snacks you're like 'Well we don't have a whole lot.'"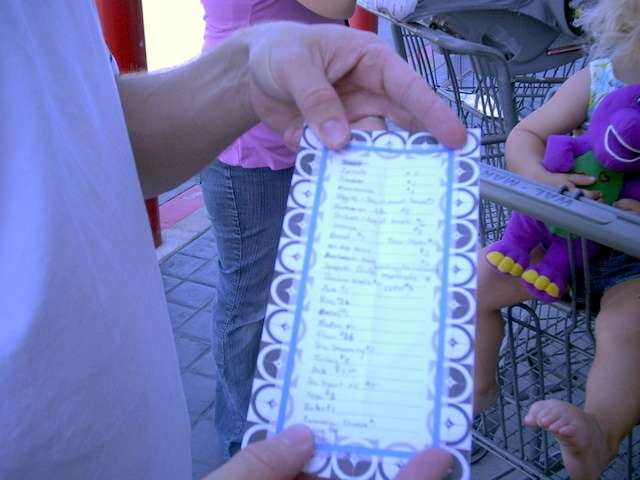 At the end, their total was $93, including Mandy's 12-pack of Dr. Pepper. "It might not last," she said, "But I'll have to work it out."
Their menu had included macaroni and cheese, but at the store, Mandy Romney made a last minute change. They opted for canned Chinese food instead. Their shopping cart also contained the basics: bread, mill, eggs and meats, some boxed and prepared meals, soy milk and yogurt for a lactose-intolerant toddler.
Back home with their food in their once emptied pantries, both families felt confident they had enough for breakfast, lunch and dinner for at least a week. In fact, Jones thought it could even stretch to two weeks.
Listen to KSL Newsradio 102.7FM/1160AM on Friday, Aug. 7 for part two, when we tell you how these two families did through the week and share some tips on pinching pennies at the grocery store.
E-mail: mgiauque@ksl.com
×
Related links
Most recent Utah stories