Estimated read time: 3-4 minutes
This archived news story is available only for your personal, non-commercial use. Information in the story may be outdated or superseded by additional information. Reading or replaying the story in its archived form does not constitute a republication of the story.
WEST JORDAN -- The Jordan School District continues to take heat from angry residents upset over a proposed 40 percent property tax increase. Some have even been spreading an e-mail that talks about extravagant spending by the district at their new headquarters, including leather couches and a big screen TV in the superintendent's office.
KSL Newsradio went to the new district headquarters to find out if the rumors were true. Inside the superintendent's office there were no couches and there wasn't a TV.
"He actually brought his chair with him that he has had since he was a superintendent, and so it's more than a decade old. The artwork that is hanging on the walls was done by students," said district spokeswoman Melinda Colton.
As for the furniture around the rest of the building, we didn't find leather couches there either.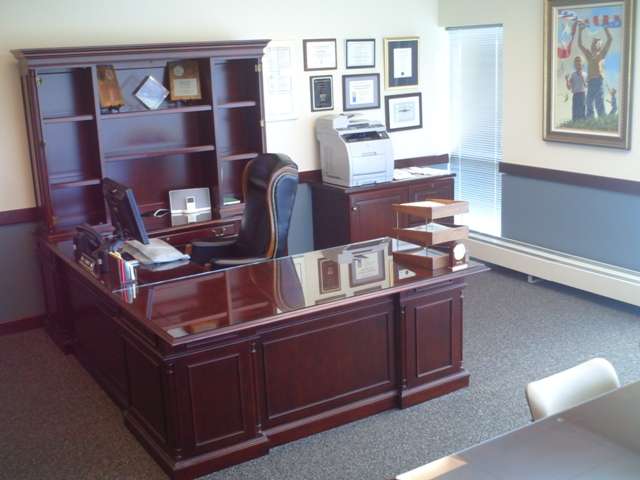 "We have to be functional but it's not extravagant. Everything that we have purchased is modular type furniture so that if we continue to lease elsewhere or if we want to purchase a building, then our furnishings go with us," Colton said.
She even pointed out most of the decorations around the district office were donated by employees.
"We've done that to kind of dress up the office to make it a little bit, hopefully, more friendly to our patrons. But the majority of those things have been paid for by our employees not by taxpayers," she said.
The Jordan district lost its headquarters in the district split and it now has a three-year lease on four buildings to house its administrators and maintenance needs. The cost includes $7 million in improvements on the building's ceilings, floors and walls. And the rent is around $30 per square foot. Colton says to build a new headquarters would have cost $70 million. "Our board of education was committed to make sure that resources for building and growth are given to students first and not to employees. So we are leasing. Are we extravagant? Not at all. In fact we invite the public to come out to our facilities and see what it looks like," she said.
As for administrators' pay, the district has 16 paid more than $100,000 a year.
"That would be your superintendent, deputy superintendents, assistant superintendents and you've also got some high school principals, again that all have more than 30 years experience," said Colton.
"The fact is, no district probably in this valley would not be raising taxes if a district split had not occurred. Your school districts in the county wouldn't have to be worried about equalization. We wouldn't be $1,000 less per student. So that really is what started this perfect storm, and that is what it is for west side taxpayers. It's everything that possibly could go wrong, financially has this year," she added.
Colton says, unfortunately, the focus right now is financial struggles instead of doing what's best for the students.
"So, ultimately, every decision from here on out impacts those students. And taxpayers, I want to remind them that they were not the first place we came, they were the last place," she said.
E-mail: rjeppesen@ksl.com
×
Related links
Most recent Utah stories